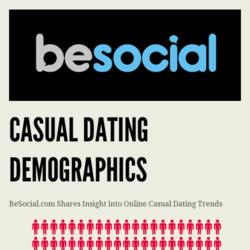 ...brands that focus on scientific matching and niche dating tend to attract the older demographics.
New York, NY (PRWEB) July 11, 2013
BeSocial.com shares data illustrating trends in user demographics for casual dating users.
See the full infographic and article here.
Millions of online users around the globe regularly engage in online dating in order to find that perfect match. Today, singles have more options than ever before when it comes to online dating, often it's more about finding a system that fits their needs. From the super matchmaker networks we see advertised on TV, to the more adult oriented sites designed for married users looking for extra fun online dating has never been more popular. BeSocial.com, an emerging leader in casual dating shares some member insights and compares findings with industry-wide trends.
Recent industry reports show that there are 54 Million single adults currently in the U.S. and 40 Million of them have reportedly tried online dating. The online dating industry brings in over $1 Billion in revenue each year. Trends show that at around age 26, female online profiles tend to see the most activity in terms of pursuers. At age 48, males typically generate double the interest of female profiles of the same age.
BeSocial reports that between July 2012 and July 2013 they see a 4% rise in activity from 18 to 24 year olds compared to the previous year. This is in contrast to older demographics as most older age groups saw less activity in this past year, each group decreasing anywhere from 1 to 3%.
"We consider this the nature of casual dating as brands that focus on scientific matching and niche dating tend to attract the older demographics." says Darrell Rosebush, Program Manager at BeSocial.com. He Continues, "BeSocial.com is more about using the tools and flexibility of the system to drive interaction and find others that share the same interests. This is more in-tune with the expectations of younger singles and we can see that in our own user demographics. Those who are 35 and older typically spend more time defining their relationship needs and don't mind answering potentially hundreds of questions to get started."
In the report from BeSocial it's also noted that male profile activity, especially in younger demographics is up in 2013 so far. Mr. Rosebush notes that "BeSocial had increased registrations from younger male users as female users aged 40 and over are equally on the decline in 2013."
Many experts believe this decline in activity and interest in female dating profiles aged 40 and over can be attributed to men selecting optimal or preferred age ranges as a base while searching profiles. Also, dating for single, divorced women with children tends to be filled with complications and anxiety.
Email contact(at)besocial(dot)com for more details.