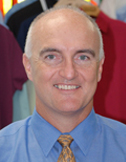 (PRWEB) July 10, 2013
HALO Branded Solutions, the country's largest exclusive distributor for promotional products, awarded their top 200 national account executives for their sales achievements in a ceremony at the Four Seasons Las Vegas Hotel.
Among those honored was Houston, TX Account Executive Doug Lally. He was awarded with membership into the company's Platinum Club, a sales achievement group for the top 10% of the company's 800-member sales force.
"Doug's ingenuity in creating unique promotional marketing campaigns for each of his customers is unparalleled," said Jim Stutz, Executive Vice President of Business Development, "He deserves to be welcomed into the Platinum Club. We are all very fortunate to have Doug as a part of this organization."
About HALO Branded Solutions
HALO Branded Solutions, with operational headquarters in Sterling, Illinois, is a leading promotional products distributor in the $18 billion per year promotional products industry. The Company has a growing nationwide sales force and expects to continue its profitable growth by offering innovative client solutions, priced competitively, and supported by world-class operations and customer service.