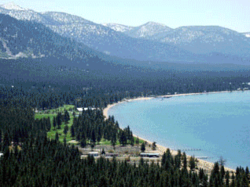 For those looking for a romantic getaway in Tahoe, guests can book a charming cabin or a cozy condo for two.
Lake Tahoe, California (PRWEB) July 10, 2013
Lake Tahoe is a top summer destination where visitors can sail the lake, explore the trails, and even try their luck at the casinos in the scenic Sierra Nevada. This summer, Tahoe will also host some of the hottest summer concerts along with the annual Lake Tahoe Shakespeare Festival and Lake Tahoe SummerFest making Tahoe a prime summer spot. VirtualTahoe.com has therefore chosen three top hotels and Tahoe vacation rentals where guests can get a good night's rest at the lakeside.
Lake Tahoe Accommodations
Lake Tahoe Accommodations offer more than 300 rental homes, condos, and cabins scattered all around North and South Lake Tahoe for visitors to reserve for an unforgettable summer vacation.
For those looking for a romantic getaway in Tahoe, guests can book a charming cabin or a cozy condo for two. Visitors can also plan a family reunion in Lake Tahoe and invite the whole family as Lake Tahoe Accommodations features spacious properties with six, seven, and even eight bedrooms! Reserve the seven-bedroom home with a lakeview deck, jacuzzi, fireplace, and enough room for 18 guests, or check out one of the comfortable six-bedroom properties that can sleep up with to 16 guests.
Three Peaks & Beach Resort
Three Peaks & Beach Resort presents a mountain-style hotel right in the heart of all the South Lake Tahoe action. Known as "Hotel Heaven," this South Lake Tahoe hotel is within walking distance of the casinos, restaurants, and a private beach on the Lake Tahoe shore. The hotel property provides guests with convenient access to both daytime and nighttime activities.
The Lake Tahoe hotel features cabin-style hotel rooms, some of which come equipped with cozy fireplaces and inviting jacuzzis. The Three Peaks also offers deluxe suites with one or multiple bedrooms, kitchens, and living rooms. And for additional comfort and the opportunity to relax on vacation, Three Peaks invites guests to enjoy the outdoor pool and two-level spa for the ultimate pampering experience.
Buckingham Tahoe Rentals
Buckingham Tahoe Rentals include a variety of rental properties to suit any individual or family's needs, such as quaint condos or spacious townhouses. The Lake Tahoe luxury vacation rental offers condos, houses, townhouses, and cabins, in which guests will fall in love with the various inviting properties, some of which have hot tubs, mountain views, lake views, fireplaces, and even piers.
Buckingham Tahoe Rentals offer monthly leases, in which guests can stay for one month, a season, or even an entire year. This is a great way for guests to plan an extended visit for a summer in Tahoe or perhaps stick around for ski season in the winter.
About VirtualTahoe.com:
VirtualTahoe.com, Lake Tahoe's number one online guide, provides quality information on all things Tahoe. Use VirtualTahoe.com to find information on everything Lake Tahoe from vacation lodging and casinos to ski resorts and boat rentals. Chloe Mulliner, editor of VirtualTahoe.com, helps Tahoe travelers find the best hotels, restaurants, things to do, and more.