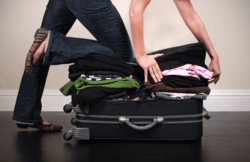 planning the perfect vacation with a small budget doesn't have to be difficult...
(PRWEB) July 11, 2013
The next great vacation can be right around the corner and it's time to start planning. As thoughts of preparation and those long lines at the airport dance through our heads adding to the already high stress levels at work no one has time to sweat the little stuff. However, the little stuff can add up to hundreds of dollars over the course of the vacation, money that could be better spent on souvenirs or a couple extra frozen drinks at the bar.
For those seeking a relaxing time in their city of choice, an exciting outdoor adventure, or even a casual tour of historical landmarks planning the perfect vacation with a small budget doesn't have to be difficult; here are some amazing tips to save money on vacation.
1) Travel during "shoulder seasons"
When traveling it is important to take into account the time in which to travel. In order to get the most out of a vacation, traveling during a less desirable time can greatly aid your financial situation. Although the "Shoulder Seasons" might not be the most convenient time to travel, they are certainty the most cost efficient time to.
2) Buy Package deals
It is a known fact that hotels are willing to offer certain deals that are not made public through advertisements. However, when airfare is booked in unison with the hotel these deals will become accessible leading to great savings for vacation. All inclusive are another good way to save money, and prevent spending money on every little thing such as food and drinks.
3) Ask the concierge for the inside scoop
One person that tends to know ways in which to save cash is the concierge. It is recommended to approach the concierge and question him about any deals or upgrades he might be aware of; it is not guaranteed to work, but it is definitely worth a shot.
4) Keep extra fees and exchange rates in mind
It's easy to forget that the dollar does not have the same worth all over the world, which is why it is very important to stay up to date on exchange rates when going on vacation. Although certain places may be cheaper to fly to, the cost once you're there may be far more expensive than you originally anticipated. So remember, exchange rates can be a killer and always check them before choosing your destination.
5) Use Social Networking
The world today revolves around social networking and it would be a shame not to use it advantageously. Through social media, there is a high possibility to spot money saving deals that would otherwise have gone unnoticed. Along with social networks, there are airfares sites in which through email will send alerts of special deals and promotions, it is important to use every form of communication when searching for travel deals in order to find the cheapest ways to travel.
6) Be Flexible
Being flexible can be a one of the best mentalities to have when going on vacation. When searching for a destination, not having only one destination in mind, but rather being open to a number of destinations, will allow for cheaper decision making when coming to a final decision on where to travel to.
7) Stay at Family-Friendly Hotels
When traveling with a family, be sure to search for family friendly hotels. By choosing the right hotel the vacation can become much more enjoyable especially if there are kids involved. When accompanied by kids, having maximum space is a necessity and it is vital to search for the hotel that will offer the extra space for the lowest cost. Do not over look the issues that can come with being stuck in a hotel that does not cater to kids, and be sure to select the right one.
8) Stock up on groceries
One of the biggest expenses regardless of the vacation can be the cost of food. One way to resolve this issue is to load up on food from the grocery store. Being able to fill up on snacks or water from a grocery store as opposed to over paying for food and drink at theme parks can make an immense difference on how pricey the vacation turns out to be
9) Sign up for local discount websites
Using sites like groupon can be another asset when traveling. In order to take advantage of sites such as these, sign up a week or two in advance for the city that the vacation is planned to this will make it possible to receive deals for dinning and attractions that would be affordable without the use of discount websites.
10) Skip the Phone Cards
Keeping in contact with family and friends while overseas can be expensive especially on long vacations or study abroad programs. Companies like (PureMinutes) offers a unique way to save on international long-distance that's as easy as picking up the phone. Using a revolutionary system that allows Pure Minutes to recognize subscribers automatically eliminates the need for complicated PIN numbers typically found on calling cards. This simplified process helps the technologically challenged grandparent or lazy college student make calls easily from their mobile or landline. Best of all, there are no obligations or contracts to sign.
To learn more about PURE Minutes and our exclusive system which eliminates the need for complicated PIN numbers, visit our website at pureminutes.com and get up to 60 free minutes for first time customers.
The PURE Minutes difference

No Hidden Fees
No Connection Fees
No Maintenance Fees
Real Minute Rounding
No Contract Required
Minutes Never Expire
Low International Rates
Reliable, Clear Quality
For a limited time, text the word PURE to 74121 for a $3 free trial with no obligation from PureMinutes!
Supported Carriers: AT&T, Sprint, Nextel, Boost, Verizon Wireless, U.S. Cellular®, T-Mobile®, MetroPCS, Tracphone, Cricket, Cellular One Dobson, Cincinnati Bell, Alltel, Virgin Mobile USA, Cellular South, Unicel, Viaero Wireless US, Centennial and Ntelos
Message and Data Rates May Apply. For help or information on this program, send "HELP" to 74121. To cancel your plan, send "STOP" to 74121 at any time. For additional assistance, contact customer service at 1-866-558-4169
For Full Terms and Conditions, visit (cdyne.com) Msg Freq 5 per day.
About PureMinutes
PURE Minutes is a leading provider of prepaid international long-distance calling solutions. We provide an affordable communication solution that offers flexibility, portability and ease-of-use for both landline and mobile users. PURE Minutes offers competitive international calling worldwide with no hidden fees, no maintenance fees, no contract required, and minutes that never expire. PURE Minutes service is sold on the web and through regional and national retailers including MoneyGram, La Nacional and payXchange and is available to customers worldwide in English (pureminutes.com) and in Spanish (pureminutes.com/index.aspx?LanG=SPA) and accepts payments through all major credit cards and Paypal.
Follow us on Twitter (@PUREMinutes), Facebook (facebook.com/PUREMinutes), and LinkedIn (PUREMinutes, LLC) for up to the minute updates.