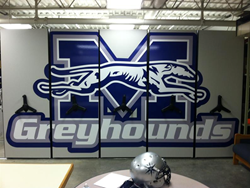 Philadelphia, PA (PRWEB) July 16, 2013
Efficient storage solutions are one of the key fundamentals to building a winning team. But too often athletic equipment storage rooms are cluttered and unorganized. With Diversified Storage Solutions, Inc. (DSSI), teams in K-12 to collegiate to professional level, competing in their respective leagues, can have an efficient sports storage space to fit their needs. Using Spacesaver storage solutions and DSSI, sports storage and locker rooms will be customized for a winning team.
On athleticequipmentstorage.com see these storage experts have helped teams such as the St. Louis Rams professional football, the University of Tennessee baseball, University of North Carolina athletic program sports storage or overall athletic gear storage at Moravian College create an efficient use of space. Each athletic equipment storage system is customized specifically for each team and sport, assuring that space will be used more efficiently. But it's not just efficient storage that Spacesaver systems provide, DSSI will also help ensure that the space designed and created fits the budget, even using exiting storage shelving.
One of the more popular systems offered by Spacesaver is powered mobile shelving. The Eclipse powered mobile shelving system eliminates all but one movable aisle, that in most cases, saves 50% of the floor space for other productive uses or doubles the storage capacity of the existing space. Because every shelving unit is made to fit any size athletic equipment for every sport, the system can be customized to store a wide range of objects like belts, jerseys, helmets and other protective gear. Another popular athletic equipment storage system is the modular Wheelhouse mobile storage system. Created for high-density storage, this system is made for even the heaviest equipment yet remains lightweight for easy relocation and reconfiguring.
Visit athleticequipmentstorage.com and download Spacesaver athletic equipment storage principals kit to learn how to benefit from these storage solutions, no matter what age or sport. Cluttered and inefficient sports storage will be a problem of the past with these custom storage systems from Spacesaver and DSSI.
--
Diversified Storage Solutions has been helping facilities store & retrieve "stuff" since 1999. As an exclusive area contractor for Spacesaver, DSSI has a collective of 50 years analyzing storage problems & providing the right solution. Diversified Storage Solutions is the sister company to Corbett Inc., which represents several high quality – high value manufacturers of commercial interior solutions including furniture, flooring, light control & more.