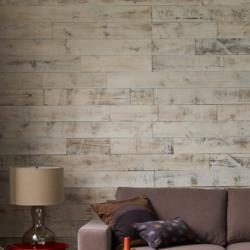 We collaborate whenever we can. It makes us better at what we do.
Sacramento, CA (PRWEB) July 10, 2013
Take one look at a West Elm catalog and you'll see a harmoniously blend of country-city-chic. They believe design should be affordable, authentic and most importantly approachable. West Elm aims to get greener every season with their weakness for natural materials. It is no wonder they had an attraction to collaborate with Stikwood, a green, American made, DIY product this season. Stikwood is 100% real wood planking that comes in 13 sustainable colors, 4 of them being reclaimed woods. The wood is only 1/8 of and inch thick with a strong adhesive back. Just peel and stick, it's that easy!
Watch an installation video here: Stikwood Installation
Stikwood has an estimated cost savings of 80% targeting the DIY'er. With thousands of satisfied designers, architects, and consumers using it everyday, it's gaining a prompt reputation for being the top choice in design. Consumers are getting a bang for their buck with its ability to completely transform a room with just 3 simple steps: Plan, Peel, Stick. Although used mostly to create a wood wall, it doesn't stop there; it can be used on ceilings, furniture, glass, and anything else you can think of that is primed or painted.
You can find Stikwood displays at any of the West Elm store locations, online at westelm.com or shop the famous West Elm catalog.