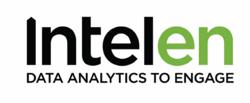 New York, NY (PRWEB) July 09, 2013
The massively upgraded Intelen Building Monitoring (v.2) and the brand new Intelen Building InSights are here to deliver powerful analytics and accurate insights and guide any and all energy efficiency and cost reduction policies. Both products were exhibited last month at the 2013 Energy Management Congress (EMC) West, in Las Vegas, NV.
Intelen Building Monitoring v.2 includes a series of new features and functionalities that help energy managers stay on top of energy consumption and cost: reports that can be customized, exported, saved and automatically updated for daily reference; more than 30 Key Performance Indicators to watch; qualified comparison tools to rank buildings, divisions and even meters; a desired monthly spend widget to keep track of costs; weather and occupancy impact features to easily eliminate the weather factor and normalize data on different buildings; utilities expense tracking to keep gas, water and electricity bills handy at all times; multiple threshold settings and email alerts to keep an eye on every aspect of energy consumption; a platform health tool to double check data quality (admins only) and a brand new, handy dashboard to see everything at a glance.
The new Intelen Building InSights includes, in addition to the above, effective tools to guide renovation and retrofitting decisions, including an audit tool to create a comprehensive profile of a building's energy efficiency characteristics; an Energy Model tool to determine the energy class of a building based on international standards and the building's Audit details; a Retrofit Scenarios tool to create, consider and decide upon various retrofitting solutions, factoring in the performance, cost and even financing of different types of equipment, fixtures and renovation materials and a Library tool to keep building and renovation features and fixtures handy for Audit and Retrofit Scenarios.
Both applications run on Intelen's powerful cloud platform, which includes proprietary software and sophisticated patent-pending algorithms, developed by energy engineers and data scientists.
If you want to find out more about Intelen Building Monitoring and Intelen Building InSights please visit our web site at http://www.intelen.com
About Intelen, Inc
Founded in 2011, Intelen is a rapidly growing start-up and an innovator in smart building energy analytics. Based in New York, it aims to provide its clients with powerful tools that transform real – time energy data into information that makes sense and drives energy consumption reduction and efficiency.