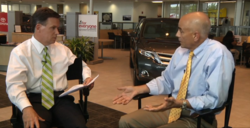 "We'll spend almost 60 million dollars this year on just store renovations. We're committed to maintaining a first-class store."
Atlanta, GA (PRWEB) July 10, 2013
CBT News (http://www.cbtnews.com) the official news source of the retail automotive industry, is now airing an exclusive interview with Craig Monaghan, CEO of Asbury Automotive Group. Jim Fitzpatrick, founder and CEO of CBT News, interviewed Monaghan at Nalley Toyota of Roswell to discuss the success and expansion of the company.
Asbury faced many obstacles when the recession hit in 2008. And when the company's stock dropped to under two dollars a share, auditors questioned if the 99 store dealership group could survive a limping economy. Today, the automotive group is currently trading at approximately $45 a share.
During the interview with Fitzpatrick, Monaghan discussed three pivotal measures that helped Asbury Automotive survive the recession.
First, the company required that all its general managers take charge of their stores.
"We are a very GM-centric organization," Monaghan says. "We believe that those are the people that are the key to our success."
The second point Monaghan related was cost containment. All unnecessary overhead was eliminated, he says, citing their relocation of corporate offices from New York to Atlanta.
Lastly, Asbury made investments.
"Despite the fact that we were in trouble, this business was always cash flow positive," Monaghan said. "I think that's one thing people don't realize is it's really quite an attractive business, and even in that downturn we were always generating cash, and we were able to make investments. We invested in technology; we invested in our people; we were buying back our debt which was at accrediting at 35 cents on the dollar, and when you put it all together it worked."
Once Asbury survived the recession, the company invested its money back into the business. Monaghan said taking care of the store and providing a comfortable venue for customers is important, and Asbury Automotive established a five-year capital spending program specifically for rebuilding and construction. Over the past 10 years, the company has either completely rebuilt or renovated nearly two-thirds of its stores, and plans to do rebuild another 20 percent of its stores within the next 12 to 18 months.
"We'll spend almost 60 million dollars this year on just store renovations," Monaghan says. "We're committed to maintaining a first-class store."
Monaghan also provided dealers with advice when it comes to showroom renovations, stressing the importance of working with the manufacturer early, and planning as a team. He said buyers can get a great-looking product--but not an overpriced product-- when planned correctly.
Monaghan provided more management advice and discussed the future plans for Asbury Automotive Group in the full interview on CBT News.
CBT News is the official news source of the retail automotive industry. The web-based newscast combines the immediacy of the internet with a traditional broadcast news delivery format, complete with co-anchors and studio set, producing quality content often featuring interviews with leaders in the industry. The free site is rapidly growing, with over 25,000 subscribers. In addition to the newscast, the site is chock full of information for dealers, including sales tips, video clips and articles highlighting topics like social media marketing, inventory management, fixed ops and more.