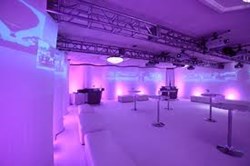 Clean Plate Culinary All White Cocktail and Tapas Party
Manhattan NY (PRWEB) July 14, 2013
Let's party together at Clean Plate Culinary's Annual All White Summer Night Cocktail and Tapas Party.
On Saturday, August 10, 2013 from 6:30 to 10 p.m, enjoy tasty treats, great cocktails and wines, with DJ Jeff playing all the favorite summer tunes, this event is all inclusive with a low ticket price. There will be special presentations and raffles while mixing and mingling.
Those who missed Clean Plate Culinary's last event should definitely not miss the "All White Party." Don't miss out on this event! The event is all inclusive and tickets cover food, drinks, appetizers, etc.
Purchase the "All White Party" all-inclusive tickets today - http://www.cpculinary.com/event/all-white-summer-night-cocktail-and-tapas-party/.
The event will take place at The Maysles Cinema and Maysles Documentary Center, 343 Lenox Avenue, New York, NY, 10027.