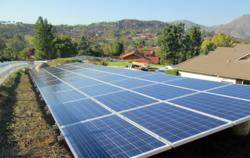 (PRWEB) July 11, 2013
The reason they continue to grow is because they are committed to building value not only for their customers and business, but also for the local community. "At the core of our efforts is our corporate philosophy. It's our company culture that makes the McWire experience different from other companies in San Diego. We strive to use the highest possible standards of professionalism and respect in our work and it shows in how fast our company has grown," said Shawn Black, Director of Marketing and Design.
According to Solar Energy Industries Association, U.S. Solar Industry Continues to Boom

The U.S. now has over 8,500 MW of cumulative installed solar electric capacity, enough to power more than 1.3 million average American homes.
The residential market continues to show consistent, incremental growth. Residential installations grew 53% in Q1 2013 over the same quarter last year.
Utility installations more than doubled year-over-year as 318 MW came online in the first quarter of 2013.
There used to be three major reasons to get solar, financial incentives, environmental consideration, and the support of our local and national economy. However, with closure of San Diego's nuclear power plant, rate increases from the local utility providers and overall higher demand for energy all point to a new driving force behind the solar industry, becoming energy independent. Investing in solar power will help provide you with hedge against inflation and will protect you from rate hikes; which will immediately start saving you money.
McWire Electric is located in El Cajon, CA and has been family owned and operated business, for over a decade. They have completed thousands of installations in that time and are an A+ rated with the BBB. McWire Electric & Solar offer a wide selection in solar and wind power products and in addition are C-10 Electrical contractors. They are proud to offer German engineered and American made products, and because they are a C-10 licensed electrical contractor they are able to complete your project without ever outsourcing any of the design or installation.
McWire Electric would like to remind their local community members before they get those rate increases in September; we encourage looking into solar power and seeing if it's the right solution for you. To receive more information on getting solar power for your home or business call 1-619-258-1242 or visit http://www.mcwireelectric.net/