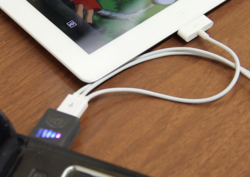 [We] made it work with tablets, which expands the usability of the Practical Meter immensely.
Salt Lake City, UT (PRWEB) July 10, 2013
It happens every day. Someone plugs their tablet in at work and it indicates that it's charging. What they don't know is in many cases charging will take over 12 hours. When connected to a PC, most tablets reduce their draw to 2.5-watts. This results in charge times that are truly absurd for a device that people use every day, exceeding 24-hours in extreme cases.
Power Practical, a Salt Lake City-based startup, says they have the cure. First, a USB meter that tells the user how fast their device is charging. Second, charge-only connectors that fool the host and tablet into rapidly-charging. Their new product is called the Practical Meter. It hit Kickstarter two weeks ago and has exceeded $100,000 in funding from 5,000 backers and still has 15 days to go.
Initially, the meter was slated to meter up to 5-watts and work only for most common smartphones. By popular demand, the company has modified the device's firmware and enabled it to meter up to 10-watts. This breakthrough expands the use cases for the Practical Meter dramatically.
"We've literally had over 100 of our backers request this feature. We heard it over and over again every day," said Riley Swenson, VP of Marketing for Power Practical. "So we went for it and made it work with tablets, which expands the usability of the Practical Meter immensely."
Power Practical first gained notoriety with its thermoelectric generator the PowerPot. The innovative cooking vessel converts excess heat into electricity, providing power off-grid to backpackers, emergency preparedness enthusiasts and the developing world. To learn more about the Practical Meter, check out the Kickstarter campaign which is live until July 25th.