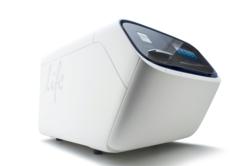 The design of the Ion Proton is pure and approachable
Thousand Oaks, CA (PRWEB) July 10, 2013
Innovation consulting firm RKS announces today that its industrial design for Life Technologies has been rewarded by the Industrial Designers Society of America with a Bronze IDEA. The firm is also honored to see five of its project selected as finalists across the following categories: Research, Design Strategy, Living room and Bedroom, Entertainment, Social Impact Design.
IDEA Bronze goes to: Ion Proton™ Sequencer
The design team at RKS worked in collaboration with the Life Technologies team on the design of the Ion Proton, an innovative device that brings down the cost and speed of decoding a human genome to $1,000 and few hours. Compact enough to fit on a laboratory bench, the device features an easy to access housing for reagents behind the front door and a simplified design that makes it easy to keep clean and sterile.
"The design of the Ion Proton is pure and approachable," says Lance Hussey, Creative Director at RKS. "It combines the language of science and technology to the promise of a better future, introducing us to a new age, one that will touch all of our lives."
The design of the Ion Proton has earned Life Technologies and RKS some of the most distinguished awards in the industry, including Spark, Good Design and red dot.
"The recognition from the design community for the design of Ion Proton Sequencer is extremely rewarding," says Ravi Sawhney, founder and CEO of RKS. "And seeing our client's market valuation increase during the initial three years since RKS has been engaged by its CEO Greg Lucier and CDO Joseph Lee as a component of the firm's global branding strategy shows how design is one of several key components necessary to create breakthrough success."
IDEA Finalist honors go to:

Hamilton Medical Portable Ventilator Research, a design research program that led to the creation of a new portfolio of medical ventilators that support patients in life-critical situations across a variety of environments.
D&A Grip™, a minimalist guitar hanger designed to display guitars like beautiful pieces of art.
Hope app, a concept for a disaster preparedness smartphone app, designed to increase awareness about the impact of disasters before they occur.
KOR Water Design Strategy, a strategic roadmap to transform a single-product firm into a powerful brand selling more than 40 products across four continents. The core of the strategy was to spread water advocacy through the sale of bottles that empower people to stay hydrated and healthy.
Stagesource® L3t Live Performance Speaker, by Line 6, a powerful, compact and multifunctional speaker designed to provide optimum sound delivery for every type of venue, combining the functionalities of a floor monitor, PA, keyboard, acoustic backline, and electric guitar system.
About RKS
RKS Design, Inc. is an innovation consulting firm delivering human-focused solutions with global impact. Founded in 1980, RKS utilizes design as a strategic tool advancing clients' ability to focus on people's needs and aspirations while creating sustainable business results and benefits to society. Working domestically and globally and having won over 150 major design awards, RKS credits Maslow and Campbell's work as the foundation for its systematic and pragmatic set of frameworks, setting the stage for the creation of experiences that motivate and reward audiences.
Read more at http://www.rksdesign.com
About IDEA
Started in 1980 by IDSA, the International Design Excellence Awards program (IDEA®) fosters business and public understanding about the impact of design excellence on the quality of life and the economy. The IDEA program is considered one of the most preeminent design competitions in the nation with its scope and influence reaching far beyond U.S. boundaries.
About IDSA
With its roots reaching back to 1938 and founded in 1965, the Industrial Designers Society of America (IDSA) is the world's oldest, largest, member-driven society for industrial design. IDSA represents professionals in product design, interaction design, human factors, ergonomics, design research, design management, universal design and related design fields. The organization has more than 3,200 members in 30 professional chapters in the U.S. and internationally.