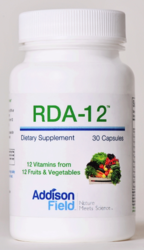 I'm happy to share RDA-12™ with like-minded individuals who care about their health, yet want better and easier solutions.
SAN FRANCISCO (PRWEB) July 10, 2013
The biotechnology company, AddisonField is proud to announce the release of RDA-12™, a 100 percent all-natural, whole food extract of 12 fruits and vegetables. It was created to help consumers look, feel and perform their best by providing real nutrition from whole fruits and vegetables.
Many consumers know the importance of avoiding processed foods and consuming healthy macronutrients like proteins, complex carbohydrates and unsaturated fats. However, micronutrients are just as important and often overlooked. Fruits and vegetables are a great source of micronutrients, but the majority of Americans fail to consume the Recommended Daily Allowance (RDA) of whole fruits and vegetables. This can contribute to a variety of health and wellness issues.
RDA-12™ was created specifically to address this micronutrient deficit using cutting-edge science to deliver all-natural, plant-based nutrition in a powder for better absorption and benefit. RDA-12™ contains the whole fruit and vegetables including the skin, stalk and peel, which can be some of the most nutritious parts that many of us avoid eating. RDA-12™ provides consumers their RDA of 12 essential vitamins solely from 12 whole fruits and vegetables.
All-natural RDA-12™ was designed and developed by a team of accomplished Ph.D. level scientists led by AddisonField's founder, Dr. Bradford A. Young. RDA-12™ was created to help preserve the micronutrients isolated from the whole fruits and vegetables and to improve their absorption for optimal benefit. Using a proprietary process and innovative coating, the team was able to not only accomplish this goal, but also able to improve the shelf and heat stability of the product.
"As a busy professional, I just could not consistently get the greater than 10 servings of fruits and vegetables a day I needed to support my active lifestyle. This became painfully apparent while I was trying to get back into shape after an accident. So, I went on a quest to try and find a nutritional supplement to help me address my problems. What I quickly discovered was that most of the supplements on the market contained additives, preservatives and synthetic vitamins, which are not a replacement for nutritional complexes derived from whole fruits and vegetables. I finally realized that my only solution was to try and make my own product. I'm happy to share RDA-12™ with like-minded individuals who care about their health, yet want better and easier solutions, " said Dr. Young.
Unlike synthetic vitamins, RDA-12™ is rich in micronutrients derived solely from whole fruits and vegetables and provides superior bioavailability for optimal absorption. This helps to ensure that RDA-12™ preserves nature's bountiful complex of nutrients in a more native state that is better recognized by the body and more nutritious.
RDA-12™ is available as veggie capsules or in a convenient shaker, which allows consumers to easily add the flavorless powder to food or drinks.
For more information about RDA-12™ please visit http://www.RDA12.com.
About AddisonField
AddisonField is a biotechnology company dedicated to improving the health and wellness of its customers by developing innovative and beneficial products. AddisonField uses cutting-edge science to harness nature's bounty and to charter new frontiers in health and wellness while making it convenient and affordable. They've fostered a consumer-centric culture, whose mission is to provide the highest quality products that empower their customers to easily improve their health and that of their loved ones.