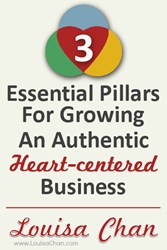 Ethical business marketing is not something you use ... Heart-Centered Marketing is about bringing the ethical person that you are and your values into the core of your business marketing...
Kuala Lumpur, Malaysia (PRWEB) July 11, 2013
Louisa Chan today announced the publication of her new guide "3 Pillars For Growing An Authentic Ethical Business" (available now at http://www.louisachan.com/ethical-business-marketing/) for coaches, trainers and tutors who want to use their talents and transform these into authentic heart-centered businesses with ethical mindsets and fair strategies thereby participating in reviving the business ethics culture.
Research shows that there are global concerns with incorporating fairness, openness and transparency into business operations. Without these elements, the reputation of a business suffers, resulting in losing loyal clients and repeat business and ultimately failing.
But Ms. Louisa Chan is not talking about using the latest buzz word "business ethics" to lure innocent and well meaning clients in order to develop a business. Louisa said:
"Ethical business marketing is not something you use to build your business. It is bringing the ethical person that you are and your values into the core of your business marketing. You are not practising 'social responsibility' in order to win clients but you are upholding ethics because of the values you embrace."
What makes Louisa's viewpoint significantly different from other business coaches is that the fundamental intentions and purpose which drive the business are built on integrity, goodness and responsibility and are for the good of all parties involved. She observed:
"Heart centered marketing is about adding value and providing real solutions while employing strategies and processes that are fair, responsible and honest. If these fundamentals are not present, no amount of advertising, digital marketing or business strategies will get your business anywhere."
Louisa also observed that many coaches, trainers, tutors and education entrepreneurs are not inclined to set up online businesses because they are disillusioned with the countless 'get rich quick' or 'overnight success' claims. Training providers with integrity do not wish to be associated with using any unethical schemes. Louisa Chan shared her thoughts on this matter:
"Business is not inherently good or bad. You can do a lot of good and bring about positive changes to the people you service - if you establish your enterprise on ethical business marketing and the three essential pillars of business building". She further highlighted "Ethical business marketing was once prized but has since been neglected and it is our job to revive the culture of ethical business."
Louisa believes in actively encouraging those who want to make an impact to start their own business the right and moral way. In offering their talents as a solution that solves real world problems, they create ethical businesses that can turn the current business culture around.
This three minute video "Growing Authentic Ethical Business With Heart-Centered Marketing" gives an overview of the guide. This guide is in line with other services and resources which Louisa Chan offers coaches, trainers, and training providers as part of her mission to help grow their ethical businesses with heart-centered marketing as they impact lives and make a difference to those they serve. Louisa concluded the interview with the following comment:
"A successful business is a powerful tool and you must decide how you want to use that tool. If the intentions are set right you will attract clients and your business will flourish. It is my hope that more ethical businesses will rise up and serve the community, bring about positive impact and revive the ethical business culture to deliver value for the good of all."
The "3 Pillars For Growing An Authentic Ethical Business" guide is available for download at Louisa Chan's website here: http://www.louisachan.com/heart-centered-marketing/.
The guide is easy to understand, straight to the point and can be implemented instantly to kick-start the necessary shift in mindset that coaches, trainers and tutors need. It also demonstrates practical strategies for ongoing success.
About Louisa Chan
Louisa Chan uses heart-centered marketing to help coaches, trainers, tutors and training providers build ethical businesses. She has consulted and worked with multi-national companies as well as solo preneurs while living in different parts of Asia.
Currently based in Malaysia, Louisa conducts face-to-face corporate workshops as well as online training and coaching. Visit Louisa Chan's website http://www.LouisaChan.com for more information.