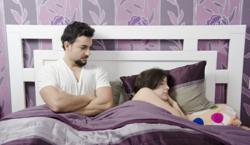 70% of those in a relationship complain that their partner's snoring has placed a strain on their relationship and general health.
London (PRWEB UK) 11 July 2013
At present 25% of the UK population suffers from some form of sleeping disorders that result in excessive daytime sleepiness. Various sleeping disorders that keep individuals awake at night are basic problems like snoring, sleep apnoea, insomnia, and restless leg syndrome. A survey by the British Snoring and Sleep Apnoea Association found that 54% of all UK vacationers have their holiday sleep affected by snoring partners, 20% of which usually are banished to the bathroom because of creating "too much noise". So what has put snoring at the forefront of our minds? Snoring right now seems to be, believe it or not, the second largest reason for couples sleeping separately in UK, with 70% of those in a relationship complaining that their partner's snoring has placed a "strain on their relationship and general health". 59% of the couple in the survey said that their partner's snoring problems irritated them so much that they could not peacefully drift off to sleep without having an argument.
Another survey published on June 20th, 2013, in Glasgow, UK, reported a survey conducted by Slumberdown which revealed that more couples than ever are sleeping apart. The survey stated that nearly 15 million Britons snore when they sleep, a quarter of British couples say that snoring has ruined their sex lives, and 10% say that it has even lead to them considering divorce. 40% of Edinburgh couples sleep apart because of this very reason. Snoring has been rightly branded by the survey as "unsexy and certainly not stimulating for a relationship". A study by Sleepy Mattress store even listed Snoring at the top of a list of "Newlyweds' Worst Bedtime Habits".
Not only is snoring something that is irritating and relationship destabilising, but snoring can also be a sign of heart disease, high cholesterol, high blood pressure, and type 2 diabetes. The British Snoring and Sleep Apnoea Association state that snoring is caused by an anatomy problem involving soft tissues at the back of the throat which cause the emission of sound from the airway during sleep. People who have short and wide necks are the most prone to have problems with snoring because the muscles around their windpipe is not able to support the fat around it when the person is asleep. As a general rule, it has been noted that individuals who have a collar size of 16.5 inches or more is likely to snore. But the problem can also occur with younger children with large tonsils, or people with a stuffy or blocked nose. Snoring is caused by the soft palate tissue at the back of the throat relaxing too much and obstructing the entrance to the throat. As the air tries to force its way through, the soft palate vibrates and produces a snoring sound.
99% cases of snoring are treatable, however. If the individual is overweight, sufficient weight loss and shedding excess fat around the neck will stop extra pressure from being put on the airways and immediately cause snoring problems to subside. Other self-help remedies described by the British Snoring and Sleep Apnoea Association are:

Avoid alcohol and sleeping pills before bedtime, as these will relax the same muscles that cause snoring, as well as dehydrate the body, leaving the nasal passages blocked and dry.
Avoid heavy meals about 4 hours before bedtime.
Try sleeping on your side instead of on your back. When sleeping on your back, your tongue falls backwards into your throat and narrows the airway, partly blocking the airflow.
Humidify your bedroom and rub a few drops of eucalyptus or olbas oils into your pillowcase to help clear your breathing.
Exercise to improve your strength, breathing, and promote weight loss.
References:
http://www.bbc.co.uk/science/humanbody/sleep/articles/sleepdisorders.shtml
http://www.surrey.ac.uk/fhms/research/centres/ssrc/
http://www.prlog.org/12160509-till-beds-do-us-part-good-night-anti-snoring-ring.html
http://www.huffingtonpost.com/2013/07/09/sleep-study_n_3569613.html