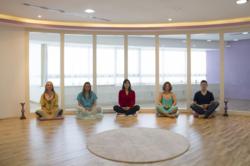 We hope to replicate the Illuminations customer experience in Pune and also in Mumbai.
Dubai (PRWEB) July 11, 2013
With the success of its Dubai branch, Illuminations now has a second location in Pune, India and will also be offering workshops in Mumbai, in hopes to open a center there by the end of the year.
The Pune center is located in the heart of Pune's Koregaon Park, a prestigious area of this vibrant city. This area used to be primarily residential and is growing into a bustling commercial center.
"It was a natural fit for us to open a secondary center in Pune – the ninth largest city in India and home to many spiritual centers and universities," said Soniyaa Kiran Punjabi, founder of Illuminations. "We hope to replicate the Illuminations customer experience in Pune and also in Mumbai."
Mumbai, formerly known as Bombay, is the capital city of the Indian state of Maharashtra. It is the most populous city in India, and the fourth most populous city in the world. Along with the neighboring urban areas, including the cities of Navi Mumbai and Thane, it is one of the most populous urban regions in the world and the wealthiest city in India.
"We see a lot of potential and a growing demand for our services in Mumbai," said Punjabi. "Given that Mumbai is an extremely fast paced city in comparison to Pune, people would highly benefit from the different services we offer." This is also an excellent testing ground for Illuminations, as they plan to open a center in Mumbai by the end of the year.
This mission has remained unchanged since Illuminations first opened its doors and the staff aims to create a nurturing environment where individuals can gain access to support and empowering tools and techniques.
To learn more about the workshops being offered at Illuminations India, please send your full name, mobile and email ID to info(at)illuminationsworld(dot)com or call +91 2030483216.
Services at Illuminations are available for individuals, corporate professionals and young adults to avail from daily meditations, self-empowerment workshops and seminars, holistic training programs, private consultations, and holistic products. Illuminations help inspire people to rise above their limitations in order to unlock their unlimited potential within.
Illuminations hopes that by attending their well-being center, your life will be changed, your soul re-inspired and you will reach beyond yourself and into the possibility of a greater world through peace, health, spirituality, and a conscious life.
Illuminations is a Dubai-based holistic well-being center with locations in Jumeirah Lake Towers in Dubai and Pune, India. The center was founded by Soniyaa Kiran Punjabi, with the intent of inspiring individuals towards a journey of self-discovery as a key to lasting happiness. The center offers a variety of services based on a holistic approach to self-development with the intention to provide a deeper insight into the mind-body-energy connection influencing the experience of life.