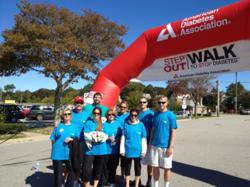 New London, CT (PRWEB) July 12, 2013
A team from ServiceMaster Restoration by Wills will be participating in the 2013 Step Out: Walk to Stop Diabetes, a fundraising walk run by the American Diabetes Association. Step Out takes place in 125 cities nationwide with more than 120,000 walkers who walk in honor of friends, parents, siblings, grandparents and many more who have been touched by diabetes.
The event this year will take place in New London, Connecticut on September 29, 2013. The company is encouraging those who would like to participate to join their team or make a donation to one of their team members. Employees of the disaster restoration company participated in the walk last year and raised over $2,000.
"We walk because we are proud to do our part to stop diabetes," says a representative for ServiceMaster Restoration by Wills. "We are committed to walking and raising money for this inspirational event not because 26 million people in the United States have diabetes, but because we personally know some of them, and want to do something about it."
Formerly called Step Out: Walk to Fight Diabetes and America's Walk for Diabetes, the fundraising event has raised more than $175,000,000 to stop diabetes over the more than 20 years it has taken place. The American Diabetes Association was founded in 1940 to fund research aimed at the prevention, cure and management of diabetes.
ServiceMaster Restoration by Wills is a disaster restoration contractor that is dedicated to delivering quality service to each homeowner they work with. They have 25 years of experience in disaster restoration and professional cleaning services and offer free estimates for any of their services. ServiceMaster Restoration by Wills offers cleanup and restoration for fire or water damage, residential mold removal, and commercial cleanup services.