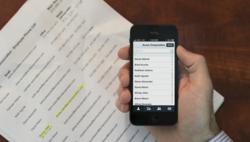 We are already seeing improvements in our customer satisfaction surveys.
Ashburn, VA (PRWEB) July 10, 2013
No matter how sophisticated technology has gotten, businesses are still using antiquated, complicated methods to manage their company contact lists, losing a powerful opportunity to leverage smartphones already present in the workplace (61 percent of mobile subscribers use smartphones and the percentage is growing*). EasyGrouper(TM) solves this issue for small to mid-sized organizations by providing a simple tool to maintain employee contact lists and push that, and other vital information to all employees' smartphones – automatically.
EasyGrouper leverages existing devices to centralize an organization's contact list. Everyone added has instant access to the entire workforce. If an employee leaves or joins the organization, one update is made and the whole organization has all the right information. EasyGrouper is completely separate from your phone's existing contact list, keeping personal and business contacts separate.
EasyGrouper was launched under the direction of David Alison, a successful business entrepreneur and executive vice president for IT Cadre, the parent company of EasyGrouper LLC. "I have a passion helping businesses succeed in today's competitive market. The inspiration for EasyGrouper was born out of my own personal frustration with not having critical company and employee information at my fingertips when I was out of the office. EasyGrouper solves that problem," said Alison.
For as little as $15 per month, businesses can add this powerful tool to their toolbox and be more competitive and productive. The smartphone app is free. New customers can now try EasyGrouper free for 45 days. Go to http://www.EasyGrouper.com to learn more.
EasyGrouper features include:
User-defined groups – Allows each person to identify their role within that particular group, so it's easy to know whom to contact on a specific topic. Users can send a message to everyone in your group or just a subset of the group. And groups can be set as private, so only members of that group have access.
Office location information – EasyGrouper keeps track of location specific details, making it simple for employees to get to other offices and locations. Users can tap on the address of a location and it will load the phone's native mapping application as well as specific information like contacts and access codes.
Collaboration – EasyGrouper helps users get the right information to the right people. Both the Group page and the Location page have an information text area that can be used for nearly anything…from directions, to pictures, to links.
Status Information – This feature enables everyone to see the status of the group members, making it easy to find someone quickly. It is perfect for when a person is working from home, on vacation, or in a meeting.
One customer, Pohanka Collision Centers, found that EasyGrouper simplified communication for everyone within the organization. "The groups feature makes it easy for Pohanka employees across our locations to communicate using their smart phone or desktop," said Chris Pohanka, vice president of operations. "If a location has a necessary part on backorder, they can quickly identify and contact our Parts people at any location to find the necessary part and get the customer back on the road faster. We are already seeing improvements in our customer satisfaction surveys."
And coming soon, the Pro version of EasyGrouper includes a Broadcast Alert feature, allowing selected users to send a text message and/or email to everyone in an account, all the people in an office location or all the members of a group.
For a brief synopsis of what EasyGrouper can do, please see this video.
________________________________________________________________________
About EasyGrouper
EasyGrouper, LLC is a new startup company funded by IT Cadre. EasyGrouper is a dynamic employee directory and communications app designed specifically to help small businesses leverage the technology employees already own: their smartphones. Go to http://www.EasyGrouper.com to learn more about this new product.