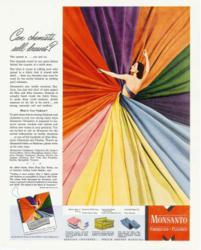 Noted historian and lecturer Dr. Regina Blaszczyk will answer questions like: "Why did General Motors introduce a blue sedan to compete with Henry Ford's black Model T in the 1920s? and "How did Parisian fashion house affect textile mills in New Jersey?"
Wilmington, Del. (PRWEB) July 12, 2013
How does the fashion industry select next season's colors? Hagley Museum and Library will welcome renowned author Dr. Regina Lee Blaszczyk on September 12 to speak about the relationship between color and commerce in American history. Based on her newest book, The Color Revolution, her lecture begins at 7 p.m. Admission is free. Reservations are requested; call (302) 658-2400, ext. 243. The lecture will be held in the Soda House auditorium. Use Hagley's Buck Road East entrance off Route 100 in Wilmington, Delaware.
"Color is central to the marketing efforts of firms whether they are making cars, clothing, or housewares," says Dr. Roger Horowitz, Director of Hagley's Center for the History of Business, Technology, and Society. "Hagley is very excited to host the historian whose path-breaking work shows how this took place over the last 150 years."
Blaszczyk will answer questions like: "Why did General Motors introduce a blue sedan to compete with Henry Ford's black Model T in the 1920s? and "How did Parisian fashion house affect textile mills in New Jersey?" The lecture will explore the evolution of color from 1850 to 1970 through a wide range of manufacturing industries, from clothing fashions and interior design to architecture and advertising.
The lecture will also cover the role of professional "color forecasters" and "color engineers" who helped major corporations bridge the gap between color and enterprise. That role still exists, as professional colorists are employed by design management teams in lucrative global corporations including DuPont and its former affiliates General Motors and Seagram. Then and now, professional colorists use psychology and illusion to capture the hearts—and dollars—of consumers.
Blaszczyk's research provides fresh insight on consumer culture, chemical industries, and designer innovation. Blaszczyk found many sources for her book The Color Revolution in Hagley Museum and Library's collections, including one of her major sources, the Inter-Society Color Council records.
About the Speaker
Regina Lee Blaszczyk is currently Chair in the History of Business and Society at the University of Leeds in the UK. She is the author of seven books, including Imagining Consumers: Design and Innovation from Wedgwood to Corning, for which she was awarded the 2001 Hagley Prize in Business History. Blaszczyk is also Associate Editor at the Journal for Design History. She received her Ph.D. in history from the University of Delaware.
About Hagley Museum and Library
Hagley Library is the nation's leading business history library, archives, and research center. Current holdings compromise 37,000 linear feet in the Manuscripts and Archives Department, 290,000 printed volumes in the Imprints Department, 2 million visual items in the Pictorial Department, and more than 300,000 digital images and pages in the Digital Archives Department. For access to the digital collections, visit our Digital Collections Page. Hagley's center for the History of Business, Technology, and Society organizes conferences, research seminars, and a public lecture series; it also operates a research grants-in-aid program.
At Hagley, we invite people of all ages to investigate and experience the unfolding history of American business, technology, and innovation, and its impact on the world, from our home at the historic DuPont powder yards on the banks of the Brandywine River.
For further information, call (302) 658-2400 weekdays for more information or visit http://www.hagley.org.