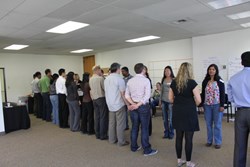 "Become A Certified Product Owner"
Irvine, CA (PRWEB) July 16, 2013
Here are just a few learning objectives:

Discuss the key responsibilities and rights of the Product Owner.
Explain the importance of the Product Backlog and how it is used in Scrum.
Practice a new model for thinking about the Product Backlog, organizing the Product Backlog items and identifying non-functional requirements.
Describe how to engage the Team members, users, customers and stakeholders in co-creating requirements and features.
Identify the profile of behaviors and attitudes that enable someone to be a powerful Product Owner and the behaviors and attitudes that augment their impact.
Practice applying multiple prioritization techniques to maximize business value.
Rehearse writing user stories and acceptance criteria.
For more details or to register for this course visit: http://agile.conscires.com/cspo-training-irvine-07/