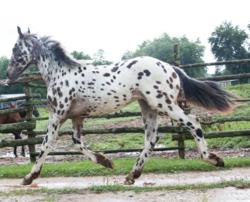 Not only did the color of these horses draw the eye, and set his company, The Sugarbush Hitch Co., above the rest, but the horses produced had a consistent type and personality traits. - SDHR
Corydon, IN (PRWEB) July 10, 2013
Click the link to Friesian Dreams And Spots' ABSOLUTE AUCTION here.
Two breeds stand out in history as trusted companions that carried their mounts into battle. The Friesian horse, all black and powerful, carried knights to war in Europe. The Appaloosa, with their unique spotted coat patterns, carried Indian riders on the plains of early America. These two breeds stand out in history as trusted companions that carried their mounts into battle.
Today riders are taking their battles into the show ring. Everyone is looking for that "edge" that will make them stand out from the crowd. With the spectacular coat patterns of the Friesian Leopard, how can you lose? These Friesian Leopards combine the best of both breeds, giving owners a noble mount, grounded with intelligence, sensibility, agility that is paramount to the dressage ring. These horses are low maintenance, easy keepers, with thick skin and tough feet and an overall beauty that will steal your heart from the moment you lay eyes on them.
From a very young age, founder of Friesian Dreams And Spots, Desiree Thayer has been fascinated with genetics and the process of improving upon a breed utilizing natural means. Starting at the age of four with guinea pigs, then cats and dogs and finally horses. Thayer has been breeding animals for over 33 years and realized her dreams were about to come true in December 2004 when she purchased a Friesian colt sight unseen from Susan Slaviero owner of Excalibur-LTD in California. Thayer's only request: a "tall dressage prospect with excellent conformation. Excalibur delivered 6 month old Brody (Beart 411 x Jasper 366 x Teunis) - flying all the way from Amsterdam to Louisville, KY just before Christmas in 2004. The next challenge was finding the perfect Appaloosa mare that would be foundation of her breeding program. After a year of searching, John & Julie Kreider, owners of SawyerCreek Farms in upstate New York introduced her to Mandy, a 16 hh Few Spot Appaloosa Mare. Sawyer Creek's commitment to breeding outstanding conformations and expertise of color genetics proved invaluable.
Breeding for conformation and color has made Thayer's breeding program a huge success with most of her buyers coming from California show homes. FDAS herd is being sold at Absolute Auction which is going on now. Click here to check out all of these beauties - auction ends July 23, 2013. There are only a few breeders out there producing consistent results like this. The most popular being the Sugarbush Draft. It was founded on a similar breeding program, however used Percheron's, as Friesians were virtually unknown to America until the late 1990's. Sugarbush breed was founded by Everett Smith of the Sugarbush Cart Company back in the 1940's when he thought that spotted horses made for spectacular mounts for his carriages. He was right, and their popularity blossomed. Today there are less than 12 of his breed left in the world.
Friesian Dreams and Spots progeny can be registered in several registries. The Sugarbush registry being the most interesting. Thayer is now looking to pass the torch onto others who are interested in the breed.