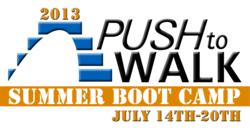 Riverdale, NJ (PRWEB) July 10, 2013
Beginning July 14 through July 20, Push to Walk will hold its Summer Boot Camp for its second consecutive year. The camp was envisioned as a way to encourage the non-profit's current, past, and prospective clients to make connections and learn from one another. The week will focus on providing as many quality specialized workouts to campers as possible and incorporating a variety of social activities for many interests.
During the day on Tuesday, July 16 and Thursday, July 18 Push to Walk will welcome the public into the gym for open houses. Each open house will include tours of the gym and vendors who cater specifically to the organization's clientele. Tuesday's open house will run from 9:30 a.m. to 5:30 p.m. and will include representatives from ReWalk, The Standing Company, Coloplast, and Maddak. Thursday's open house will begin at 9:30 a.m. and end at 3:00 p.m. and will include representatives from The Standing Company, Maddak, and Restorative Therapies featuring the RT200.
Community awareness is of the highest importance to the non-profit and Push to Walk hopes that client families and friends, the general public, and medical professionals take this opportunity to visit. "Our clients come to us because they see an improvement in their quality of life. They work hard during each of their sessions and our open house is a way to invite the public to see the amazing accomplishments that we witness every day," says President Cynthia Templeton.
Push to Walk's exercise trainers are certified in methods known to help people regain strength, function and independence and provide one-on-one workouts to their clients. The next closest facilities of this kind are located in Boston and North Carolina.
Summer Boot Camp information can be found at: http://pushtowalknj.org/summer-boot-camp.html. Online donation opportunities are available on the Push to Walk website: http://www.pushtowalknj.org. For more information, please contact Stephanie Lajam at (862) 200-5848 or slajam(at)pushtowalknj(dot)org.
About Push to Walk
Founded in 2007, Push to Walk is an organization that provides individualized workouts and resources to people with spinal cord injuries and other forms of paralysis to optimize current quality of life and to prepare for future medical advancements. It is the only program of its kind in the New York- New Jersey area. Push to Walk's rigorous one-on-one workout approach challenges clients to reach their personal goals and achieve maximum independence, leading to greater success and fulfillment in their personal and professional lives. Push to Walk is only able to cover about 65% of its operating costs through client fees, and relies on grants and fundraising events to help make up the difference. A 501(C)3 non-profit, Push to Walk is located in Riverdale, New Jersey. Visit http://www.pushtowalknj.org to learn more.