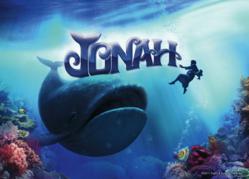 Branson, Missouri (PRWEB) July 10, 2013
Branson Ticket & Travel - "Jonah" is the latest original musical from Sight & Sound Theatres® and premieres in Branson, Mo., March 26, 2014. This epic production brings the familiar Bible story to life as the audience witnesses Jonah's tribulation and God's grace and enduring love.
The $3 million production of "Jonah" offers:

a fun-filled script that is uplifting, entertaining, and full of adventure, yet offers a powerful and timely message.
dramatic special effects to create an immersive underwater experience with glowing
71 set pieces, including the largest single set piece ever built by Sight & Sound – a
a cast of nearly 50 professional actors in elaborate costumes
a show for the whole family performed on one of the largest stages in the country
Click here for more information or call 1-800-432-4202.
"Jonah" premiered in 2012 at Sight & Sound's theatre in Lancaster County, Pa. More than 850,000 guests saw the production during its one-season run. Audiences were delighted as Jonah's adventure takes him through a terrible storm, an encounter with an enormous fish, his new life in a wicked empire and the struggles he faces while learning to trust the Lord.
"Sight & Sound has always offered shows for the whole family, but 'Jonah' is perhaps our most family-friendly script ever. Children are familiar with the story as a favorite from Sunday school and really enjoy the immersive quality of the show," said Josh Enck, chief creative officer.
"Jonah" will run from March 26 through December 31, 2014. Tickets go on sale to the public May 1 and can be purchased by visiting Sight & Sound's new website at sight-sound.com or by calling 800-377-1277. Tickets may also be purchased at the box office at the theatre, 1001 Shepherd of the Hills Expressway. "Joseph" is currently onstage through October 18, 2013, and "Miracle of Christmas" returns November 2 and runs through December 28, 2013.
Sight & Sound Theatres is the nation's largest Christian theatre company with locations in Lancaster County, Pa., and Branson, Mo. While it is a ministry, the company is not affiliated with any external organization or any particular church denomination. It is a for-profit organization and operates without charitable support.
To request a free showguide, click here.
Sight & Sound's purpose is to present the Gospel of Jesus Christ by visualizing and dramatizing the scriptures, through inspirational productions, encouraging others and seeking always to be dedicated and wise stewards of God-given talents and resources.