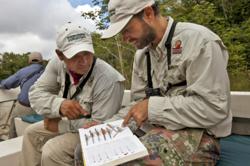 Helena, AL (PRWEB) July 10, 2013
Wildlife enthusiasts have three opportunities to explore the diverse Amazon Basin with renowned zoology and conservation experts on International Expeditions' fall 2013 Amazon River cruises. Known for its focus on environmental education, IE departures will also be accompanied by two native naturalists and an expedition leader who all provide lectures and field interpretation during immersive daily excursions.
IE's small-ship adventure takes travelers deep into the Pacaya-Samiria Reserve, a mosaic of pristine habitats including flooded and dry forest and extensive wetlands. Naturalist-guided hikes, kayaking and excursion boat rides in three distinct habitats allow travelers to discover a wealth of jungle wildlife, including pink river dolphins, macaws and up to 15 species of primates. With the possibility of observing more than 700 species on IE's 10-day Amazon cruise, the guidance and extensive experience of three special wildlife-focused guest lecturers adds immeasurably to the overall experience.
Ed Smith, Smithsonian's National Zoo, August 9
Ed Smith is a biologist with the Smithsonian's National Zoological Park in the Amazonia Department and is involved in a variety of educational programs, research and husbandry. Although herpetology (the study of reptiles and amphibians) and invertebrate zoology are Smith's primary interests, he is also very knowledgeable about tropical plants and birds.
Ron Magill, Zoo Miami, September 6
The Zoo Miami's Ron Magill has worked hands-on with wildlife for over 30 years. While most recognized from numerous television appearances, Magill has also developed and directed award-winning conservation projects and documentaries focusing on the wildlife of Africa, India and topical America. In In recognition of his wildlife preservation efforts, Magill received the prestigious Wildlife Ambassador Award.
Joan Embry, Embery Institute for Wildlife Conservation, October 25
Dedicated animal and environmental advocate Joan Embery has served as a champion of conservation issues around the world, most notably as spokeswoman for the Zoological Society of San Diego and founder of her own non-profit foundation, which connects people to wildlife and conservation issues and the role each individual plays in insuring healthy environments. Embery's public education and outreach work includes hundreds of television shows from PBS's Nature to The Tonight Show with Johnny Carson.
Guests aboard IE's Amazon Voyage travel aboard the new 31-guest La Estrella Amazonica. Highlighting the new riverboat are private balconies for every cabin, multimedia lecture room, fitness center, kayaks and the Amazon's largest observation deck — more than 1,000 square feet — ideal for stargazing or photographing the passing rainforest.
Pricing starts at $4,398, and includes daily naturalist-guided excursions; complimentary laundry service; nightly receptions with complimentary Peruvian cocktails, wine and beer; most meals; transfers; pre-cruise accommodations at Lima's Swissôtel; post-tour dayroom; and tours of Colonial Lima and Iquitos. In addition to the luminaries above, experts on wildlife photography and videography will lecture aboard other cruise departures.
For more information or a brochure on Amazon cruises, call International Expeditions at 1-800-234-9620 or visit http://www.IEtravel.com.
Celebrating 33 years of nature travel, International Expeditions specializes in small-group journeys to Earth's most exhilarating destinations. A pioneer of environmentally responsible travel, IE is committed to preserving natural habitats and improving the welfare of the people and communities it visits. International Expeditions has been named to Travel + Leisure's list of "World's Best" tour operators & safari outfitters seven times and to National Geographic ADVENTURE magazine's list of "Best Adventure Travel Companies on Earth."