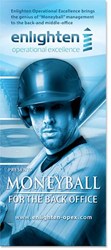 Boston, MA (PRWEB) July 15, 2013
Enlighten Operational Excellence, a provider of software and services designed specifically to enhance operational performance, today unveiled Moneyball for the back office. Enlighten's approach uses new data metrics and analytics, combined with a highly structured and prescriptive 20 week transformation program, to drive growth and productivity, improve earnings and preserve domestic jobs.
This transformation program consists of a combination of management training, mentoring and coaching methods. The program yields break-through results including reducing costs by 20-40 percent over the course of the program and then sustaining those gains.
The book "Moneyball", by Michael Lewis, recounts the true story of how baseball's Oakland A's general manager Billy Beane combined the analysis of player statistical performance metrics with innovations in team management and coaching to revolutionize the business of baseball. Enlighten has taken this ingenious methodology to the back office of large enterprise financial institutions (retail banks, mortgage issuers), property, casualty and life insurance companies as well as BPOs, healthcare payers, telcos and government organizations to reveal hidden capacity in operations, thus enabling the growing of revenue by eliminating waste and using that revealed capacity for organic growth.
"With Enlighten's approach to operational efficiency and its transformation program, we went through a dramatic change in our back office fairly quickly in terms of productivity but also in terms of quality," said Peter Mullins, executive general manager, SAI Global Property. "We are able to bring on new business without adding additional staff and get an immediate return on investment."
Enlighten takes routinely performing back office operations and turns them into continuous Lean powerhouses while increasing quality, staff culture scores and lowering costs. Customers using Enlighten's suite of optimizers and transformation program have shorter turnaround times with increased efficiency and productivity.
"The financial meltdown changed the way organizations look at costs and revenue, specifically in wealth management and insurance organizations," said Tony Tregurtha, founder and CEO, Enlighten Operational Excellence. "Enlighten has proven that it's possible to drive down costs significantly, while improving quality, customer experience and employee satisfaction. Our Moneyball-like analytics approach provides performance metrics without the need to change IT systems and without disruptive outsourcing."
Enlighten has launched its Moneyball program with a series of baseball game events and hand-delivered mounted baseballs, signed personally by Red Sox baseball legend, David Ortiz.
Additional Resources

About Enlighten Operational Excellence
Enlighten Operational Excellence analytics tools, services and training help organizations dramatically, quickly and continuously measure, analyze and improve back- and middle-office operational performance. The Enlighten program provides transformational and sustainable operational improvements that yield an exceptional return on investment. Enlighten is privately held with headquarters in Sydney and Boston. For more information, visit http://www.enlighten-opex.com
Media Contact:
Kim Pegnato, EmergePR
781-620-1729
Kpegnato(at)emergepr(dot)com