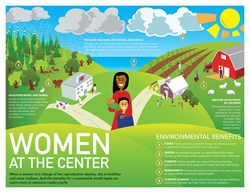 When women are in the driver's seat of their reproductive destiny, their lives—and their families and communities—are healthier and more resilient.
WASHINGTON, DC (PRWEB) July 11, 2013
Why does family planning matter? From education to health care, food security to biodiversity, the benefits of better access to reproductive health span the entire globe – with women's needs right at the center.
Today, on World Population Day, the Knowledge for Health (K4Health) Project is releasing a new online toolkit offering a wealth of information and tools for family planning advocates. The new Family Planning Advocacy Toolkit will be launched via a TweetChat starting at 2 pm EST today. To participate, follow hashtag #FPAdvocacy or view the conversation on Twubs.
To illustrate the wide variety of links between family planning access and a more sustainable world, Resource Media contributed an infographic to the toolkit, designed to quickly convey the importance of family planning to women, children and communities.
"There are so many connections between access to family planning and the kind of future that we want for our families and communities," said Cat Lazaroff, Managing Program Director at Resource Media. "Yet we've found that family planning advocates and sustainability advocates rarely find the common ground we know they share. The infographic is simple a way of helping these communities see these connections more clearly."
Besides the direct benefits that family planning offers to the health and well-being of women and children, the infographic shows the benefits of slower population growth, ranging from reduced food and water scarcity, to reduced pressure on natural systems, to an increased ability to cope with the growing impacts of climate change.
"More than 200 million women around the world still lack the family planning that would enable them to determine the timing and spacing of their children," said Lazaroff. "Study after study has shown that when women are in the driver's seat of their reproductive destiny, their lives—and their families and communities—are healthier and more resilient."
The Women at the Center infographic is available for free download on Resource Media's website, at: http://www.resource-media.org/fp, and can be reposted as needed.
Racing Numbers
In 2011, according to United Nations projections, the world surpassed seven billion people. Projections at the time forecast passing another astounding milestone – nine billion – by mid-century. Today, less than two years later, revised estimates put the world at closer to 9.6 billion by 2050, with most of the growth happening in developing nations like Nigeria – a country already hard-hit by climate change, water scarcity, and other environmental issues.
Last month, Resource Media hosted a webinar ahead of World Population Day to examine the complex connections between population, access to reproductive health services, and human rights. You can watch the webinar online.
The webinar featured Los Angeles Times reporter Ken Weiss, who explored some of the connections between population and the environment last year in his landmark series on population, Beyond 7 Billion; Carmen Barroso, Regional Director, International Planned Parenthood Federation/Western Hemisphere Region; Sandeep Bathala, Senior Program Associate for the Environmental Change and Security Program and the Global Health Initiative at The Wilson Center; and Kim Lovell, Director of the Sierra Club's Global Population and Environment Program.
###
Media Contact: Cat Lazaroff, cat(at)resource-media(dot)org; 202-454-4619
Resource Media is a nonprofit organization dedicated to connecting broad communities around the stories, voices and information that foster more sustainable policies and practices.
K4Health works to improve access to and sharing of global, regional, and country-specific public health knowledge, particularly about family planning and reproductive health (FP/RH). K4Health is supported by the United States Agency for International Development (USAID).