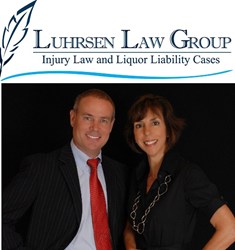 When you need a Sarasota personal injury lawyer, the Luhrsen Law Group should be your first choice.
Sarasota, FL (PRWEB) July 16, 2013
For more than a decade, the personal injury law firm of Luhrsen Law Group has represented clients who have been harmed by the actions of others, so the addition of Cemetery Desecration to the firm's practice areas is a logical extension for a firm known in Florida for their service and commitment to the community.
With the new practice area, the Luhrsen Law Group recognizes a troubling problem for individuals and families dealing with a multi-billion dollar cemetery industry that is both under-regulated and rarely inspected. Cemetery desecration is a form of personal injury that harms individuals and families who have entrusted the remains of their loved ones to what should be sacred ground.
No longer an industry of privately owned family businesses, cemeteries are increasingly owned and managed by large corporations that may be motivated by profit over moral obligation. While funeral homes are regulated by the Federal Trade Commission's funeral rule—a kind of consumer bill of rights—cemeteries are not. With approximately 6,500 burials and cremations a year, cemeteries make major money—$15.2 billion in 2007—which can lead to abuses without proper regulations and oversight, according to a March 2012 report by Fox News.
A case in point is a lawsuit in Florida against Service Corporation International, the largest operator of funeral homes and cemeteries in North America. According to WPTV News in an April 2012 report, the suit alleges abuses that include losing human remains, burying individuals in the wrong grave, crushing burial containers, and digging up human remains and moving them in secret. In other actions against cemeteries, complaints include burials in the wrong space, separation of husbands from wives, bodies stacked on top of one another, cracked vaults, missing grave markers, and oversold plots.
For those who have been harmed by cemetery desecration, the issue is not only a legal one. It is a moral issue that violates a sacred trust. Luhrsen Law Group attorneys stand ready to take on those who breach that trust, just as they have when clients have been injured or wronged in DUI accidents, truck and auto crashes, medical malpractice cases, bad faith insurance claims, and nursing home abuse and negligence.
To contact the Luhrsen Law Group in regards to your cemetery desecration claim, call toll free 866.957.HURT (4878), or in Sarasota, 941.355.7778. To learn more about the firm's practice areas and attorneys, visit them on the web at http://www.luhrsen.com.