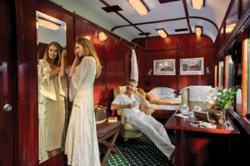 Luxury train travel is as good as it sounds, but sometimes a long trip isn't the answer. The Club makes it easy to find the perfect journey, in every way.
Chippenham, Wiltshire, UK (PRWEB) July 12, 2013
The Luxury Train Club has pulled together a programme of trains especially for those who only require a day trip or a short 2- or 3-day journey. Membership is simple and free, just subscribe to the Club newsletter.
Luxury train holidays are sometimes up to 15 days' duration, and many are between 4 – 8 days. Client feedback indicates that some would prefer shorter trips. Identifying the ideal journey time is often a time-consuming task.
The Club has one ready-made solution – the Calendar of Luxury Train Journeys, with a link from every train information page.
However, with the launch of a service focussing on a programme of one-day and short journeys (3 days or fewer), the Club has made the job even easier.
Here is a selection, on four continents, noting that Club Member discounts apply for every train, and that all prices shown are public rates, per person:
AFRICA
Blue Train (from ZAR 13,265) and Rovos Rail's Pride of Africa (from ZAR 13,600) – 2 days
AUSTRALIA
Indian Pacific - Perth to Adelaide, 3 days, Gold Class from AUD 1,313
CENTRAL EUROPE
Majestic Train de Luxe –day trips from Vienna, from EUR 247
ENGLAND / SCOTLAND
British Pullman or Northern Belle – these fine trains range the English, Scottish and Welsh countryside, linking historic cities with fine dining in the perfect style of the Orient Express.
Royal Scotsman – The Highland Journey, 2 nights, GBP 2,350
ENGLAND / EUROPE
Venice-Simplon-Orient Express – London / Paris or Paris / London, I day, from GBP 580; paris / Venice or Venice / Paris, 2 days, £1,160; Vienna / London, 2 days, GBP 1,610; London / Venice, or Venice / London, 2 days, GBP 1,920.
PERU
Hiram Bingham (from USD 734) and Inca Rail (Executive Cl from USD 122) , Machu Picchu / Cuzco or Cuzco / Machu Picchu, 3 hours.
SWITZERLAND
Swiss Classic Train – The First Class Wine Train, 2 nights, CHF 585.
Simon Pielow, Concierge at the Luxury Train Club," Luxury train travel is as good as it sounds, but sometimes a long trip won't work, however appealing the idea. The Club makes it easy to find the perfect journey, in every way."
ENDS
About the Luxury Train Club:
Contact: Simon Pielow, http://www.luxurytrainclub.com, infoATluxurytrainclub.com, +44 (0)1249 890 205
The Club gives the public rates on all listed trains, and then reduces them by applying a 'Member Special' 2.5% discount on every journey, as well as passing on any available offer from the train. Until 30 September 2013, the Club is applying an extra 2.5% discount for multiple bookings for new reservations. The Club also shows appreciation for every booking with a thank-you gift.
The Club website has details of offers from trains around the world, including Early Bird Booking Offers, some specifically for Members.
MEMBER BENEFITS
Discounts:

2.5% discount off the price of any journey on the Club website
Additional 2.5% for:
o more than one booking, valid for new reservations made between 20 June – 30 September 2013;

Discounts are applied on final or full payment and are per suite.
Club discounts are in addition to offers from the train companies.
Thank You Gift – the Club values every booking made by a member, sending a thank-you gift, which varies from time to time, to the leading passenger for every reservation. Current gifts include one of the following:

Gift from Osprey London, something from their range of small leather goods;
Gift from Noble Isles, a travel item from their range of bath and body products;