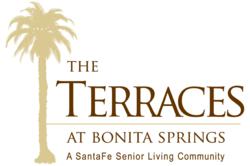 This is a significant milestone for this community and for seniors in southwest Florida.
Bonita Springs, FL (PRWEB) July 10, 2013
The Terraces at Bonita Springs, a new senior living community, has opened for residents and the move-in process is underway. About 300 older adults will be moving to The Terraces, and the community has created nearly 200 new jobs. The newest generation of senior living communities features a variety of upscale amenities and unique design elements to create a resort-like experience. Interior and exterior photo/video opportunities at The Terraces will be available for media on Wednesday afternoon, July 17.
"What makes it so attractive is the stunning architecture and design, and it's clear that residents are excited about the look and this new lifestyle option," says Ross Dickmann, executive director of The Terraces. "We've also assembled a great staff who are committed to our core values of hospitality, service and attention to detail."
The move-in process will take place in choreographed stages over the next several weeks. Of the 144 one- to three- bedroom maintenance-free independent living apartment homes, approximately 90 percent are reserved. Nearly 70 percent of residents are couples.
"The move-in process is extremely well coordinated and we work meticulously with every family to make this a smooth transition," says Pat Goheen, move-in coordinator for The Terraces. "When residents come in, it's great to see the looks on their faces, because this is a senior living community unlike anything people have seen."
Exterior features at the $70 million community include a large courtyard with a runnel fountain feature, multilane swimming pool, and bocce and tennis courts. The interior features a Mediterranean Revival design style and includes Italian- and Spanish-made furniture and décor, as well as original and commissioned artwork from around the world. Residents will also have a choice of several dining venues and a range of programming options, from lifestyle and fine art events to educational and wellness classes.
"This is a significant milestone for this community and for seniors in southwest Florida," says Troy Hart, president of The Terraces and SantaFe Senior Living, the community's not-for-profit sponsor.
"We're pleased to be a part of the Bonita Springs business community and for our residents to begin experiencing the refined and engaging lifestyle the community will provide."
As an Unlimited Lifecare community, The Terraces will also provide residents with lifetime access to a continuum of on-site health care services. Renaissance at The Terraces includes assisted living, skilled nursing and dedicated memory support residences.
The Terraces will host grand opening ceremonies at the community in early November.
About The Terraces at Bonita Springs
The Terraces at Bonita Springs, located at 26455 Tamiami Trail in Bonita Springs, Florida, is a not-for-profit senior living community serving older adults in the Naples, Ft. Myers and Bonita Springs area. The Terraces is sponsored by SantaFe Senior Living, a SantaFe HealthCare company. The Terraces features independent living apartment homes, as well as lifetime access to on-site health care, including 48 assisted living, 40 skilled nursing and 18 dedicated memory support residences. More information is available by visiting the community's website at http://www.TheTerracesAtBonitaSprings.com, or by calling (239) 221-8907 or toll-free at (877) 333-1860.