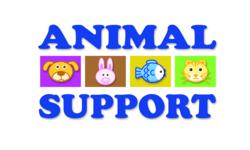 Rochester Hills, Michigan (PRWEB) July 12, 2013
Leader Dogs for the Blind thanks the Omidi brothers and Ms. Abaca, and their charity, Animal Support, for the grant and interest in positively impacting the lives of people who are blind or visually impaired. Recognized as one of the "Best in America" nonprofit organizations by the Independent Charities of America, Leader Dogs for the Blind trains visually impaired clients to use guide dogs, use GPS travel technology, and develop their orientation and mobility skills with the use of a white cane.
"Our mission is empowering people who are blind or visually impaired with lifelong skills for independent travel through quality Leader Dogs, highly effective client instruction and innovative services," says Leader Dogs for the Blind President and CEO Susan M. Daniels. "Leader Dogs for the Blind is pleased to receive a grant from Animal Support that will allow us to continue to deliver our programs and services to our clients at no cost to them."
About Leader Dogs for the Blind:
Rochester Hills, Mich.-based Leader Dogs for the Blind is a nonprofit organization that has been providing independent travel to people who are blind through the use of Leader Dogs since its founding in 1939. Over the years, Leader Dogs for the Blind has provided independent mobility to more than 14,000 individuals. The services of the organization are provided free of charge. The organization also provides classes for orientation and mobility, pedestrian GPS and a summer camp for teens. For more information on Leader Dogs for the Blind, call (888) 777-5332 or visit http://www.leaderdog.org.
Animal Support (http://www.animalsupport.org) is dedicated to addressing pet over-population and abuse by promoting charities working on behalf of animal well-being. The organization was founded by brothers Dr. Michael Omidi, Julian Omidi and Maria Abaca to advocate for animal protection, rescue, adoption, and spay and neuter laws. Animal Support does not accept donations but encourages direct contributions of money and talents to the charities and organizations featured on our website. For more information about Animal Support, send a message using the website's Contact Us function, check out Animal Support on Facebook, Twitter, Google+, and Pinterest.