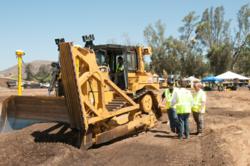 San Diego, CA (PRWEB) July 11, 2013
Hawthorne Cat recently teamed with Caterpillar to host the "Get In Get Real" national demonstration event on June 20, 2013. The all-day event was held at 16111 Old Milky Way, Escondido, California.
Over 125 attendees from the greater San Diego region were able to view and test drive over 20+ Cat machines, featuring Tier 4 Interim Technology, including the D6T Track-Type Tractor, 430F Backhoe Loader, CB44B Vibratory Compactor, 320EL RR Hydraulic Excavator and a 140M2 Motor Grader. Attendees had over 5 acres of open space to dig, grade and move dirt with the Cat machine of their choice. Training coordinators were on hand to show attendees the full capabilities and feature sets of each machine and why Cat machines are the best choice in the industry. View videos for Cat machine demonstrations on Hawthorne Cat's YouTube Channel at http://ow.ly/mNU6D.
Hawthorne Cat also featured destination kiosks to promote key customer services including financing options, SITECH, Product Link/VisionLink, rental service, product support, and service. Caterpillar representatives were also available to meet with attendees to answer any questions.
Attendees who registered online were automatically entered to win a free one, two or three month rental of any Cat machine at their jobsite, sponsored by Hawthorne Cat and Caterpillar. View complete event coverage on Hawthorne Cat's Facebook page at http://ow.ly/mNUfI.
About Hawthorne Cat
Hawthorne Cat is the authorized dealer for Caterpillar construction and power equipment in San Diego, Hawaii, Guam, Saipan and American Samoa. Hawthorne sells, rents, provides parts and service, training and emission solutions to various industries including general building construction, landscaping, marine, paving and power generation. For more on Hawthorne, visit http://www.hawthornecat.com.