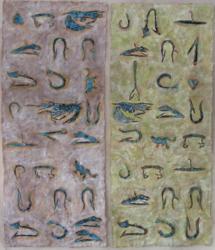 Ida Culver House Ravenna is thrilled to have Patricia Philipp, an accomplished artist in our residence
SEATTLE (PRWEB) July 12, 2013
Ida Culver House Ravenna resident, Patricia Philipp and her daughter, Melissa Koch are artists whose works span the spectrum of media, culture and history creating a lively and diverse, first time art exhibition.
On Saturday, July 13th the mother-daughter-duo open their exhibit, CONTINUANCE, with a gala reception at Ida Culver House Ravenna at 2315 N.E. 65th Street, Seattle 98115. The exhibit, which runs through November 6, 2013, and gala reception are open to the community. Wine, hors d'oeuvres and live music will accompany the art. Reservations are requested at 206-523-7315.
Philipp and Koch hail from artistic roots. Koch's grandfather wrote the script for Academy Award winning film, "Casablanca" while her father taught Philosophy at Stanford.
For Philipp, who graduated summa cum laude with a Masters in Fine Art from the San Francisco Art Institute and earned an undergraduate degree at Stanford, this is the first time that many of her pieces are on public display. Her last showing happened in Paris in the early 1980s.
"My mother's watercolor paintings can take many years to create," says Koch. "They are deep with meaning and filled with layers. I would describe her style as Romantic, deeply meditative, and enthralled with the mystical world."
Koch described her own work as contemporary and connected to mythology as well.
"For the last seven years, I have focused on print making, often inspired by 3,000-year-old Japanese and Chinese art," says Koch whose process includes use of clay and collograph.
Koch has worked extensively with public art commissions throughout Europe and North America, and on projects with the Seattle Housing Authority and UW Medical Center. She trained in the U.K. at The Architectural Association, School of Architecture in London.
"Ida Culver House Ravenna is thrilled to have Patricia Philipp, an accomplished artist in our residence," says Ida Culver House Ravenna Executive Director, Sheryl Johnston. "With such an vast background and family legacy, we know our residents, guests and the entire Ravenna community will be impressed with all they see and learn."
Interviews with Philipp and Koch are available onsite and in advance.
Ida Culver House Ravenna is part of Era Living, a private, Seattle-based company of eight premier retirement communities. Ida Culver House Ravenna offers a warm, vibrant lifestyle, a variety of amenities, rich programming and exceptional Independent Living and Assisted Living care. The community is located close to shops, restaurants, and the University of Washington.