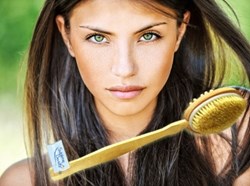 Sublime Beauty® wants Skin Brushing to become as well-known as tooth brushing, and practiced everyday for better health. The company explains.
St. Petersburg, FL (PRWEB) July 12, 2013
Sublime Beauty® wants Skin Brushing to become well known and practiced by every adult. "We would like it to become as common as brushing our teeth each day," says Heshelow, founder of Sublime Beauty®.
Why? Skin Brushing, which has been practiced through the ages but was relatively lost in our modern times, supports the largest body organ: the skin. Skin eliminates up to 1/3rd of toxins and dead cells. As we age, we are unable to throw off these toxins and dead cells and this can cause a backup in the skin and put stress on other organs. Health can suffer.
Skin Brushing also boosts blood circulation, so important to good health. The blood delivers oxygen and nutrients throughout the body. Furthermore, Skin Brushing supports the lymphatic system, which isn't as lucky to have a pump like the heart. The lymphatic system relies on muscle movement, massage or Skin Brushing to move those toxins away. Otherwise, inflammation and disease can occur.
Skin Brushing has other benefits, too. Cellulite management, better muscle tone, improved digestion and anti-depression are among them.
How to Skin Brush?
1) Use a long-handled brush with natural bristles, such as the one Sublime Beauty offers. A long handle will allow one to reach everywhere with ease.
2) Brush on absolutely dry skin. Typically, many brush in the morning before the shower (and in the shower, so dead cells can be washed away easily.)
3) Always brush TOWARDS the heart. Start at the feet and work your way up, brushing everywhere except the face.
4) Brush with medium, firm strokes that should NOT hurt. Don't brush so lightly as to be ineffectual, but do not hurt your skin, and never brush over open sores.
Sublime Beauty® offers a 6 page brochure to those who purchase the Skin Brush. "We are big fans of Skin Brushing at Sublime Beauty, and many models and celebrities know the secret, too. You can make a big impact on your health for less than $20 today," says Heshelow.