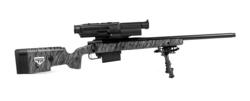 The article on CNN Money generated 1100+ comments from users and over 11,000 Facebook recommendations.
Austin, TX (PRWEB) July 12, 2013
A team from CNN Money explored the TrackingPoint™ facility and sat down with CEO Jason Schauble in one of the first-ever looks inside the applied technology startup's facility. The Austin, TX office is home to just under 100 employees, the majority of which are engineers, who have worked over the last three years to develop the technology that is like no other in the firearms industry. CNN showcases the simulators, armory and engineering labs TrackingPoint works in everyday. CNN talked with Schauble about the technology, the change in the industry that will result from high-tech companies such as TrackingPoint entering the firearms space, and also the political and controversial elements of Smart-Rifle™ technology.
The discussion also touched upon TrackingPoint's upcoming relationship with Remington, releasing the information that 1000 lower-end guns will be available for around $5,000 dollars. No information was disclosed on models or how limited the systems capabilities would be compared to the more powerful TrackingPoint Precision Guided Firearms™. The partnership was announced prior to the NRA convention held this May in Houston, TX, and many expect the initial product to debut before 2014.
TrackingPoint's Precision Guided Firearm™ technology applies jet fighter lock and launch capability to small arms, allowing the user to consistently hit targets up to 1000 yards away without extensive training or long-range shooting experience. The system is of particular interest to big game and safari hunters who are limited to shooting distances where they can ethically harvest game with traditional optics, which are significantly below the distances the TrackingPoint system allows. The TrackingPoint smart rifle is now the premier long range hunting rifle available for purchase. The system is available in .300 Winchester Magnum and .338 Lapua calibers.
CNN was unable to draw any comment from The FBI, Homeland Security and the Bureau of Alcohol, Tobacco, Firearms and Explosives. The article on CNN Money generated 1100+ comments from users and over 11,000 Facebook recommendations.