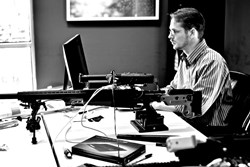 So the author does not like guns or technology. I am sure he want us to hunt with stone axes
Austin, TX (PRWEB) July 13, 2013
TrackingPoint's Smart-Rifle™ technology has run the gambit of journalistic opinion, but an editorial review by Slate generated an incredible 1000+ comments discussing the disruptive systems' impact on hunting and the second amendment. The conversation also brought a number of readers to the defense of the American tradition of hunting. Writer Justin Peters started off with an extra-inflammatory title "The TrackingPoint "Smart Rifle" Exemplifies Everything That's Horrible About American Gun Culture" that immediately created a negative connotation for 2nd Amendment and hunting supporters viewing the article, driving the discussion in the comments beyond just the rifle, and into the origins and continuation of American tradition itself.
NPR describes TrackingPoint's Smart Rifle system as "The rifle's scope features a sophisticated color graphics display. The shooter locks a laser on the target by pushing a small button by the trigger. It's like a video game. But here's where it's different: You pull the trigger but the gun decides when to shoot. It fires only when the weapon has been pointed in exactly the right place, taking into account dozens of variables, including wind, shake and distance to the target." The TrackingPoint system is available for purchase in 300 Win Mag and 338 Lapua.
Comments range from "So the author does not like guns or technology. I am sure he want us to hunt with stone axes." to "This weapon in my opinion is actually a way to reduce crime and the minimal dangers of weapons. I really hope the writers of this article spent more time understanding the industry and firearms. "
One of the more important points brought up was the advocacy of the word smart. Firearms is the only industry where "smart", as described by the media, means safer, rather than more intelligent. This comment sums up the situation clearly
"Gun control advocates dilemma:
"Gun owners should have to use 'Smart Guns'"
Enter TrackingPoint
"Wait, we have to get rid of these 'Smart Guns'""
TrackingPoint CEO Jason Schauble reached out to Slate for the option to write a published response and received no reply.