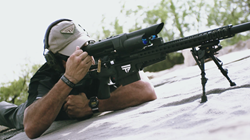 Personally I think it is a no brainer: an AR-10 chambered in .308 Winchester
Austin, TX (PRWEB) July 14, 2013
Last week, Smart Rifle™ manufacturer TrackingPoint™ announced it was turning to the public to decide what the next models of firearm the applied-technology company produces will be. A number of websites picked up on the initiative, and writers from across industries gave their opinions on what they hope to see from the disruptive gun manufacturer out of Austin, TX. The offerings included in the initiative included the following calibers: 243 WIN, 5.56 NATO, 300 BLK, 6.5 mm, .270 WIN, .308 WIN, .30-06, .25-06 REM, 7mm REM, and 375 H&H.
Many firearms media picked up on the conversation, helping to facilitate thousands of entries into the survey, which closes on July 30th. In addition, firearms bloggers weighed in with many opinions of their own.
Guns.com continued the conversation with TrackingPoint prior to their article "We asked TrackingPoint about a rifle chambered for the long-range 6.5 Grendel intermediate cartridge and they're open to the idea".
Truth About Guns wrote "I would be remiss if I didn't shamelessly shill for some votes on the 300 BLK as the next caliber on the list".
The Firearms Blog's article stated "Personally I think it is a no brainer: an AR-10 chambered in .308 Winchester".
TrackingPoint's initial offerings available for purchase now through TrackingPoint's applications system include .338 Lapua Mag and .300 Win Mag bolt action rifles. The smart-rifle technology allows all users, regardless of skill, to achieve high accuracy at ranges up to 1000 yards, as well as record and stream from the smart-rifles Networked Tracking Scope. According to Jason Schauble, TrackingPoint CEO, turning to the public and existing user base of the system to help decide where to go next with their long range hunting rifles was an easy decision.
"TrackingPoint is a technology company, first and foremost. As such, we believe in using tech tools to stay in touch with our customer base, generate feedback to make our products better, and help us decide what to do next," Schauble said. "The public is showing overwhelming interest in us as a leader in the next era of firearms, so it was an easy decision to solicit their input directly in this way."