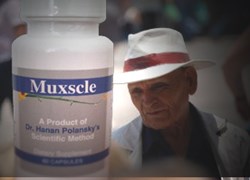 It's not surprising that Mr. Travis had a stroke. Recent research has shown that 'chronic and/or past infections rather than any one single infectious disease is associated with the risk of stroke. - Mike Evans, polyDNA
Rochester, NY (PRWEB) July 13, 2013
Randy Travis, the country and western singer best known for his songs "Forever and Ever, Amen" and "Three Wooden Crosses" recently suffered a massive stroke according to CNN. (2) polyDNA suggests that his stroke could have been prevented by taking Muxscle, an antiviral, dietary supplement.
Travis spokesman Kirt Webster said in a written statement that "Travis' illness is related to his "recently acquired viral cardiomyopathy." (2) "Viral cardiomyopathy is a disorder where a virus attacks the muscles of the heart, causing the heart to beat slower, according to the U.S. Centers for Disease Control and Prevention's website. In some cases, the heart can stop." (2)
"It's not surprising that Mr. Travis had a stroke. Recent research has shown that 'chronic and/or past infections rather than any one single infectious disease is associated with the risk of stroke.' Clearly, Mr. Travis was already suffering from virally induced heart disease and the stroke has been linked to that. We feel it's time for doctors to begin treating the underlying cause of these illnesses, which are clearly viral in nature." Mike Evans, polyDNA
As mentioned in Mr. Evan's comments, several studies have shown that "chronic and/or past infections rather than any one single infectious disease is associated with the risk of stroke." (Grau 2010) (4)
In Mr. Travis' case, his stroke was a "complication of his congestive heart failure for which he is being treated at The Heart Hospital at Baylor Plano in Texas, Kirt Webster said." (2)
The public will have to wait and see how Mr. Travis fares since he is still reportedly in "critical condition." (2)
"The effects of stroke vary from person to person based on the type, severity, and location of the stroke. The brain is extremely complex and each area of the brain is responsible for a special function or ability. When an area of the brain is damaged, which typically occurs with a stroke, an impairment may result." (Ohio State University, Wexner Medical Center) (3)
Most doctors do not address the possibility that a latent virus can cause a stroke. By not treating the possible viral infection, they do not help their patients reduce the risk of a second stroke.
Is there a way to eliminate the viral infection that may be the cause of stroke? polyDNA recommends Muxscle, an antiviral natural product, clinically proven by scientists at the Center for the Biology of Chronic Disease (CBCD) to be effective against latent viruses. (5)
Each capsule of Muxscle contains a patented formula of five all natural ingredients including selenium, camellia sinesis extract, quercetin, cinnamomum extract, and licorice extract. In addition, each bottle is GMP Certified. (6)
To learn more about Muxscle, visit http://www.muxscle.com.
References:
(1) http://www.guardian.co.uk/music/2013/jul/11/stroke-randy-travis-critically-ill
(2) http://edition.cnn.com/2013/07/10/showbiz/randy-travis-hospitalized
(3)http://medicalcenter.osu.edu/patientcare/healthcare_services/stroke/effects/Pages/index.aspx
(4) http://www.ncbi.nlm.nih.gov/pubmed/21060340
(5) cbcd.net/strongstudy.htm
(6) muxscle.com
###
polyDNA is a biotechnology company that develops dietary supplements using the unique scientific method developed by Dr. Hanan Polansky, which is based on Computer Intuition.
In addition to his unique scientific method, Dr. Polansky published the highly acclaimed scientific discovery called Microcompetition with Foreign DNA.
The discovery explains how foreign DNA fragments and specifically DNA of latent viruses cause most major diseases. polyDNA developed Muxscle, an antiviral natural remedy that helps the immune system kill latent viruses and prevent secondary stroke.