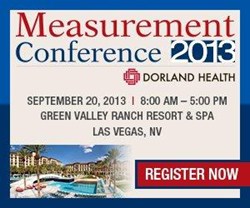 "This conference is the first of its kind to focus on data analytics to inform decision making, policy adoption, and overcome complex challenges facing our new health care landscape."
Rockville, MD (PRWEB) July 13, 2013
The need for change is upon those working within healthcare, and the outcomes we need are clear: Better performance, better quality and a smaller cost burden.
Thanks to the Affordable Care Act, the Centers for Medicare & Medicaid Services (CMS) is tying payment to quality standards, investing in patient safety, and offering new incentives for providers who deliver high-quality, coordinated care. In order to take advantage of these incentives, payers and providers are using data to understand their populations and the diverse gaps in care that are contributing to rising healthcare costs.
Delivering critical intelligence to meet the needs of organizations toiling in this environment, Dorland Health presents the first measurement conference for members of the care coordination team. The 2013 Measurement Conference brings together professionals involved in care coordination for an interactive conference that will share information, strategies and resources aimed at improving quality of care while reducing waste and inefficiency.
"Effective use of data by all members of the care coordination team will provide the opportunity for payers and providers to work together to meet the needs of the population in a responsible manner," says Anne Llewellyn, RN-BC, MS, BHSA, CCM, CRRN, Conference Chair and Editor in Chief for Dorland Health. "This conference is the first of its kind to focus on data analytics to inform decision making, policy adoption, and overcome complex challenges facing our new health care landscape."
By attending the 2013 Measurement Conference, you will:

Learn how to leverage best practices, lessons learned, and data knowledge to achieve optimal health, and financial outcomes as a way to realize optimal performance for organizations.
Find out how to use data analytics, tracking tools and transparency that reflect your patient population to identify areas where interventions can make a difference.
Take away ideas you can use to achieve better healthcare and financial outcomes.
Understand the role of data and data analytics in the emerging paradigm of accountable care.
Learn how to capture data as it relates to the shift away from a fee-for-service to pay-for-performance model of healthcare delivery.
Discover how organizations successfully collect, analyze, track and trend data to identify areas of risk and realize clinical, quality and performance improvement.
Take away strategies to obtain organizational buy-in across departments as you seek to implement new models of tracking patients and capturing data.
Learn the critical steps involved in building a plan for team education and performance improvement.
The conference will be held at the Green Valley Ranch Resort and Spa in Las Vegas, NV, on September 20, 2013. The pre-conference workshop, the Care Coordination Achievement Program: Skills and Competencies for Today's Healthcare Leader, will take place at the same location on September 19. The Care Coordination Achievement Pre-Conference Workshop is a learning opportunity for healthcare professionals and organizations as they seek to understand the latest intelligence about care coordination, including: what care coordination is; the core components that define the workforce; and why it is critical that all professionals recognize their responsibility in making sure that care is coordinated across the continuum.
For more details and to register, visit: http://www.dorlandhealth.com/measurement_conference/.
About Dorland Health
Dorland Health, a division of Access Intelligence LLC, is a leading healthcare publisher and media company providing education, training, tools, information resources, guidance and practical advice for practitioners and specialists in the healthcare field. Dorland Health services and products include the Professional Patient Advocate Institute, Case In Point, Case In Point Weekly, OR Manager, Patient Advocate Report, industry-specific resource directories and reports, conferences and events, webinars, award programs and special reports. Dorland Health also offers continuing education credits.