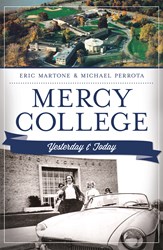 "Mercy College's history is rich and engaging."
Dobbs Ferry, NY (PRWEB) July 13, 2013
Mercy College's School of Education Assistant Professor Eric Martone and School of Liberal Arts Assistant Professor Michael Perrota explore Mercy College's past and present in the new book, "Mercy College: Yesterday and Today", published by The History Press.
Featuring beautiful photography throughout, "Mercy College: Yesterday and Today" takes readers from the founding of Mercy College in 1950 by the Sisters of Mercy through the College's transformations to become coeducational and nonsectarian, while remaining true to the mission to provide motivated students with a quality education. The book explores the expansion of campuses throughout the New York metropolitan area, changes in leadership, student life and athletics.
"Mercy College's history is rich and engaging," said Eric Martone, assistant professor and co-author. "Its steadfast commitment to live up to its motto 'to be consumed in service' and to provide opportunities for motivated students is truly unparalleled in higher education."
Martone adds, "During the course of working on this book, I became especially fascinated by how the College's history intertwined not only with that of the local community, but also with major events and figures in broader American and global history."
Eric Martone is assistant professor of social studies education. In 2011, he received the John Rogers Memorial Award from the Connecticut Education Association in recognition of his leading contributions in the areas of education and scholarship. He has published dozens of articles, many of which have appeared in such journals as the Journal of Global History and the International Social Science Review, and his research has received financial support from such organization as the National Endowment for the Humanities and the American Historical Association. His most recent books include The Black Musketeer: Reevaluating Alexandre Dumas within the Francophone World (2011) and the Encyclopedia of Blacks in European History and Culture (2009).
"It is important for all students on campus to understand how Mercy College was created and the path our founders traveled to get us where we are today," said Michael Perrota, assistant professor and co-author. "Those students are a part of that history now. As soon as they step foot on campus, they become a page of history in this book."
"We hope this book elicits fond memories for alumni while enlightening current students on the College's rich and meaningful history," adds Perrota.
Michael Perrota is assistant professor of media studies. He has been a news reporter, a sports editor and a feature writer for various weekly and daily newspapers in New Jersey for the past decade. He has won four New Jersey Press Association Awards, including the Lloyd P. Burns Award for Responsible Journalism. He is also the advisor to the Mercy College newspaper, the Impact, which has won various awards, including first-place awards in news reporting from the New York Press Association and Scholastic Press Association.
"Mercy College: Yesterday and Today" is available for purchase at local stores and online at Historypress.net and Amazon.com. It also retails as an e-book at various outlets.
About Mercy College
Founded in 1950, Mercy College is a private, not-for-profit higher education institution that offers more than 90 undergraduate and graduate programs within five prestigious schools: Business, Education, Health and Natural Sciences, Social and Behavioral Sciences, and Liberal Arts. Mercy College offers an engaging and personalized learning experience that includes the College's revolutionary Personalized Achievement Contract (PACT) program. The Mercy College PACT is the first program of its kind and now serves as a nationally recognized model for mentoring. The PACT program was featured as a "Best Practice" for retention and career services by the National Association of Colleges and Employers (NACE). http://www.mercy.edu/ 877-MERCY-GO.