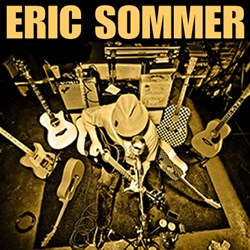 Nothing will explain this Artist more than a live show... Seeing IS believing!
Malcom Howell
Knoxville Nights
(PRWEB) July 12, 2013
For Eric Sommer fans, it's going to get a little hotter in the Northeast this summer.
Pop Americana Artist Eric Sommer begins a series of east coast shows before heading west for The Atwood Musicfest in Madison, WI on July 28th. These dates are sure to please Eric Sommer fans as well as guitar players of all stripes. This string of appearances will be featuring material off the upcoming record as well as selections from Rainy Day Karma, recently released on the "Clyde Is Thinking" label.
It's summer time. Most creative types take it easy. Relax on the porch. Sit under a coconut tree. Order takeout.
But not Eric Sommer. This artist is an aggressive tour pro, and is constantly changing his shows, adjusting the stage sets, re-tooling amps and guitars, writing new material and making new friends and fans around the world. This new show is a stripped down guitar bonanza, a slimmer scene for the general musical movie that has become The Eric Sommer Experience.
Tour dates currently include:
Flicker Theatre - Athens, GA - July 11
Abe's on Lincoln - Savannah, GA - July 12
Terrapin Brewery - Athens, GA - July 13
The Hungry Tiger - Manchester, CT - July 16
Leftfields - NYC - July 17
The Pattenburgh House - Asbury, NJ - July 18
The Electric Maid - Tacoma Park, MD - July 20
World Cafe Live - Philadelphia, PA - July 22
Jolly's - Philadelphia, PA - July 23
4w5 - Wilmington, DE - July 24
The Dunes - Washington, DC - July 25
Additional Tour Dates and Ticketing Info can be found at Pollstar.
Mr. Sommer's live shows have developed recently to include a more highly focused improvisational approach. The British Pop/Power Pop influences of Dave Edmunds and Nick Lowe are still there in some wonderful 3 minute Pop Gems: Red Queen, Tell Me What I'm Doing Wrong and Sunny Afghanistan and they provide a delicious contrast to the wide-open improv of "Bayou Ballet" and "Thunder Stick".
Now those pop gems give contrast to the wide-open, full throttle make-it-up approach evident in recent shows and collections. The transition works well live and translates nicely to the recorded media, but at the end of the day, there is nothing like a live show to fire the imagination.
One of the noticeable standouts in any Eric Sommer show is the on-the-fly improvisational approach to many of the breaks, solo sections and dramatic lulls in an "audio-wash, wall-of-sound" presentation. The combination of raw amp feedback cycled with acoustic guitar overtones that seem to merge in the air is a remarkable process to experience.
Eric started his musical career in the Boston area and has been a regular player on many national tours and showcases. He worked in Europe for 2 years on Danish, German and British rock stages, returned to Boston and formed The Atomics, a cult power-pop band in South Boston. His influences are as diverse as Townes Van Zandt, Steve Earle, Steve Howe and The Ramones.
Phil Ochs, Russell Malone, David Landau and Pat Martino, Joe Pass and Charlie Christian round out a spread of musical influences.
Mr. Sommer's current project with power trio "The Solar Flares" shake up Chet Atkins and David Bromberg influences with those of Randy Travis and Elvis Costello - a remarkable mix.
With open tunings, slide guitar, lap-slap tone guitar and a remarkably aggressive fingering style approach, watching Eric Sommer will make you jump out of your seat and holler for joy. There are very few players who have maintained this authentic American style of guitar and Eric Sommer is one of the very best.
Amen.
_________________________________________________________________________
For music samples, please visit Eric Sommer online for additional schedules or contact him at eric(at)ericsommer(dot)com or call 202-255-1995. Additionally, you can find Eric Sommer on Facebook, too. RAINY DAY KARMA is also available on iTunes and CDBaby.
Eric Sommer is represented by Clyde is Thinking, and PR programs are managed thru MTG/NY; For more information, promo/appearance requests or to set up an interview, please contact Tom Monihan 202-255-1995.