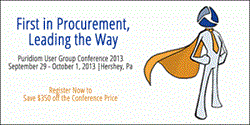 The Puridiom solution is especially critical to a company's procurement function, given the added emphasis on cost-cutting and bottom line savings.
Mechanicsburg, PA (PRWEB) July 16, 2013
First in Procurement, Leading the Way is the theme of the Puridiom User Group Conference to be held in Hershey, PA on September 29 – October 1, 2013. The 2-day event shows current and prospective users how to map out the most effective paths to maximize the Puridiom procurement solution for their organization. Through a series of informative, product-focused sessions and demonstrations, attendees will learn more about the Puridiom tools they should be using and how to use them most effectively.
Specifically, the conference will include first-hand client accounts, closer looks at modules and self-service tools, Team Puridiom's shared experiences and specialized expertise, and a sneak peek at the new generation of Puridiom (5.0). Future procurement and technology trends, as well as attendee-selected procurement discussion topics are on the agenda.
"The conference is family-friendly," says Calla Zawoysky, marketing associate and conference coordinator. "The Hershey area is well known for its wide variety of attractions. The sweetest place on earth has something for everyone!" Conference costs include hotel accommodations, breakfast and lunch meals, as well as registration fees. Early bird registration is available until July 31st, full pricing until September 29th.
The Puridiom User Group Conference is a biennial event developed to educate attendees on the latest in Puridiom solutions, as well as sharing and learning from unique user experiences. "We want our clients or any person interested in the Puridiom procure-to-pay suite to know the full capabilities of the product; current and future. The Puridiom solution is especially critical to a company's procurement function, given the added emphasis on cost-cutting and bottom line savings," said Al Jacobs, vice president of operations.
About Puridiom
Puridiom, a recognized leader in the Supply Chain, offers innovative technology solutions, industry-specific strategies, and best practice expertise to achieve best-in-class results. During the past 30 years, Puridiom has successfully transformed procurement and accounts payable operations and delivered real savings, control, compliance, and accountability to spend activity. Puridiom serves many global organizations within diverse industries, including energy, insurance, financial, entertainment, government, healthcare, and non-profit. Solutions and services include stand-alone modules, a comprehensive procure-to-pay suite, cloud / SaaS and on-premise deployment platforms, and business process outsourcing options.
About Hershey Lodge
Hershey Lodge is a full-service resort located in Hershey, Pennsylvania, offering 665 guest rooms and 100,000 square feet of function space. Hershey Lodge is Pennsylvania's Largest Convention Resort and is part of Hershey Resorts, which also includes The Hotel Hershey, The Spa At The Hotel Hershey, Hershey Country Club, and Hershey Highmeadow Campground.
Known as The Sweetest Place on Earth, Hershey, Pennsylvania is a year-round destination with a wide array of attractions. Hershey was rated a top family vacation spot by Smart Money and FamilyFun magazines.
Hershey is conveniently located in Central Pennsylvania, just 90 minutes from Baltimore, 2 hours from Philadelphia, 2 hours from Washington, DC and 3 hours from New York City. For additional information about Hershey, please visit HersheyPA.com.