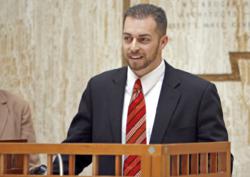 It was entirely unnecessary for people like us who preach peaceful non-cooperation
Herndon, VA (PRWEB) July 12, 2013
Activist advocate Shield Mutual has launched the Free Adam Kokesh Campaign in response to the US Park Police execution of a search warrant on libertarian activist Adam Kokesh at his home in Herndon, Virginia the night of Tuesday, July 9th, as reported by the Washington Post on July 10.
Police kicked in the front door, according to the July 10 Washington Post article. They deployed a stun grenade to his foyer. They searched his home for hours while holding residents. Two helicopters assisted police.
"It was, by far, the most frightening experience of my life," said Kokesh business manager Jewell, one of those held incommunicado during the attack. "And it was entirely unnecessary for people like us who preach peaceful non-cooperation."
According to the July 10 Washington Post article, residents of the home allege that police kicked Kokesh during the execution of the search warrant.
US Park Police claim to have discovered psychedelic mushrooms at Kokesh's residence, according to a July 10 USA Today article. These are a natural fungus that, according to Wikipedia (en.wikipedia.org/wiki/Psilocybin_mushroom), has been used by humankind for religious, psychological and recreational purposes since prehistoric times.
According to court documents and a July 11 CBS DC article, Kokesh is being held at the Fairfax County prison without bail on felony charges of possession of a schedule I or II substance and of simultaneous possession of a firearm (Fairfax County General District Court case numbers GC13152459 and GC13152461).
Kokesh supporters have raised more than $1,500 for a national media campaign in his defense at FreeAdam.net, according to Kokesh's public relations defense firm, Shield Mutual.
Kokesh is currently refusing to participate in the legal process, according to the same July 11 CBS DC article (washington.cbslocal.com/2013/07/11/adam-kokesh-handcuffed-silent-in-court-ordered-held-without-bond/). He was arraigned this morning in a wheelchair.
About Adam Kokesh
Adam Kokesh is a Marine veteran who is active for peace and other liberty causes. Kokesh is the host of "Adam vs. The Man" at AdamvsTheMan.com.
About Shield Mutual
Shield Mutual is the agora's first defense agency. We defend activists from government attack using public relations. ShieldMutual.com.