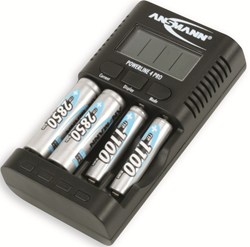 Made for serious users of rechargeable batteries but simple enough for everyone.
Blackwood, NJ (PRWEB) July 13, 2013
Ansmann's Powerline 4 Pro battery charger goes way beyond the usual. It's a powerful charger, tester and maintenance station that can be used anywhere in the world and on the go with the added car adapter.
"With the capacity tester, you'll never have to guess how much life is left in the battery," states David Schliep, National Sales Manager for North America. "The PL4-PRO gives you an exact read out in milli-amp hours (mah) of what is left in the cell."
Besides the testing function, the charger also refreshes the batteries and allows a variety of different charging cycles, at different current levels and charge times. It will charge up to 4 AA's or AAA's or any combination of both.
However, there's no need to fret about information overload. The casual user can easily put batteries in this charger and walk away. It's the best of both worlds.
Ansmann's new charger has been met with very good reviews from avid users of rechargeable as well as the occasional user. Currently available in the USA and Canada through Amazon, Horizon Battery, and authorized dealers.