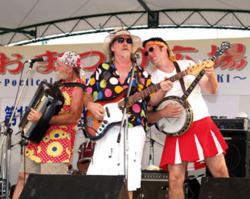 Branson, MO (PRWEB) July 11, 2013
Branson Ticket & Travel - It's "Cajun Days" at Branson's IMAX Entertainment Complex with two fun-filled days of celebrity and celebration, Friday and Saturday, July 19th and 20th. Special autograph and photo op appearance by Liz "Gator Queen" Choate, from the History Channels' popular TV series Swamp People, along with live Cajun music, McFarlain's crawfish boil, live alligators, door prizes, and more.
Call 1-800-432-4202 for more information or click here to request a free Branson vacation guide.
"What started out as a simple grand opening for our new mall store, Camo Country, turned into a full fledged Cajun party with one of the most famous 'gator hunters' in the country," explains Tom Forster, Director of Marketing. "We have decided to bring the Bayou to Branson."
Camo Country is a licensed dealer for Swamp People and Duck Commander gift items. When Liz Choate was contacted about the possibility of attending, she says, "I've never been to Branson, but I've heard many good things from family and friends. I am definitely looking forward being there!"
See All of Branson's Shows Here.
The Cajun Days event is from 1:00 p.m. to 5:00 p.m. on Thursday and Friday, July 19th and 20th. The public will have an opportunity to meet the "Gator Queen" for autographs and photos. The "Sons of Britches" Cajun band will perform from 3:00 p.m. – 5:00 p.m. each day. A genuine Cajun Crawfish Boil will be served at McFarlain's beginning at 1:00 p.m. each day for only $9.99, while supplies last. Live alligators will be on display each day provided by Branson's Wild World. The IMAX Film, Hurricane on the Bayou will be shown at 2:00 p.m. and 6:00 p.m. each day with a special admission price of only $6.00. Retail shops throughout the complex will be featuring huge sales and hourly drawings with great prizes to be given away through 5:00 p.m.