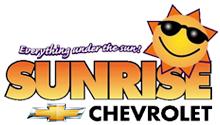 As part of the Garber Organization we are very proud to have been chosen to be in the Top 100. We also want to congratulate the two other Garber stores. This is a true testament to the culture and team environment the Garber organization has created.
(PRWEB) July 11, 2013
Sunrise Chevrolet has just been named one of the best dealerships to work for in North America by Automotive News. The organization has looked at employee treatment at dealerships across the country, and chose Sunrise Chevrolet based on employee survey and testimonial. Sunrise was one of only two Illinois dealerships to make the cut.
This is the second year where Automotive News has released a list of best dealerships to work for. In order to determine the 100 best dealerships in the United States and Canada, Automotive News looked at the employment practices at various dealerships. They wanted to know if employees were treated fairly and if they were satisfied with their workplace. Automotive News also looked at the employee retention rates at the dealerships, always a reliable number when determining employee satisfaction.
As of right now, Automotive News has released a geographic list of all the dealerships with the Glendale Heights Chevy dealership among only two Illinois dealerships (the other is Continental Audi in Naperville). Later in the year, Automotive News will release a ranked list of the 100 dealerships to determine the best among them.
Automotive News will unveil the ranked list at a ceremony to be held in Chicago on October 17, 2013 at the Four Seasons Hotel. Earlier in the day, they will also hold a conference called "Building the Best: Training, Retaining and Winning Top Talent." The conference will feature speakers from the listed dealerships, as well as customer service and employee satisfaction experts.
After the event, Automotive News will release a special list of the best 100 dealerships in North America. Some dealerships, possibly including Sunrise Chevrolet, will have a larger focus. For these dealerships, Automotive News will take a closer look at what specific policies have enabled them to build such a positive working environment.
Sunrise Chevrolet is regularly looking for new members of their team. Visit the careers section of their website to submit an application for any desired position. For more information, please contact the dealership through their website or by calling (800) 493-5148.