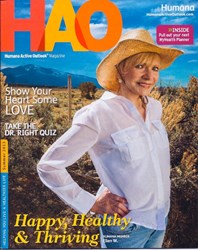 Taos, New Mexico (PRWEB) July 16, 2013
Happy, Healthy & Thriving is the cover story in this year's summer issue of Humana Active Outlook Magazine, a quarterly publication with a circulation of 2.1 million. It features author, speaker and columnist. Ellen Wood of Questa, New Mexico.
Humana Active Outlook (HAO) is an information-packed magazine that goes all over the country to those who have Humana Medicare Health Insurance, and it's focused on healthy life choices and preventive care. The editors look for someone to feature who can serve as a role model and example of healthy living past 50. Wood fit the bill.
Not long after watching her mother succumb to Alzheimer's, she noticed the early symptoms of the disease affecting her own cognition and memory. Wood turned her life around when, in 2004 at age 67, she decided to grow younger. She began to apply what she'd learned during years of study and training in mind/spirit dynamics, and started researching what science, medicine and esoteric traditions offered on healthy aging for the body as well. Soon an entire program evolved.
"These practices worked and are still working!" Wood said and offers herself as living proof. "I want everyone to realize it's possible to grow younger and live with joy, energy and vitality into their 80s, 90s and beyond," she added.
According to Wood, "Society is handicapped by the prevalent ideas and beliefs about what aging looks and feels like, ideas inherited from generations past. We've been taught that growing old is grim, that it's natural to lose many of our aptitudes and abilities and sure isn't fun. Not so many decades ago, we were also taught that man couldn't fly, until a few forward-thinkers figured out how to do it," says Wood.
"I'm just delighted to be a cover girl, and actually really thrilled that my message about growing younger is reaching a wider audience."
Wood's first book, Think and Grow Young won the Gold Nautilus Book Award in the audio book category. She is currently working with a literary agent and plans to have her second book, Rejuvenate Your Life!, published next year.
To find out more about Wood and her teachings, visit http://www.howtogrowyounger.com and search out her how-to videos on YouTube.com.
# # #