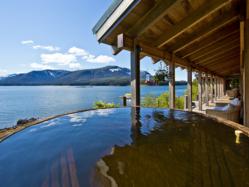 It's a little like owning a summer home in the middle of Yellowstone National Park, except it's oceanfront in Alaska and you can catch trophy fish off the balcony. - Dean Jones
Admiralty Island, AK (PRWEB) July 11, 2013
Executives at Seattle-based Realogics Sotheby's International Realty (RSIR) in partnership with Coastal Real Estate Group in Ketchikan, Alaska have listed Hidden Bay Retreat for $7.75 million – a matchless private refuge sited on more than 45 acres of waterfront property in Southeast Alaska. Record stock market values on Wall Street and rising consumer confidence have set the stage for an increase in discretionary real estate buys, according to RSIR brokers – especially for heirloom properties throughout the US.
"We're monitoring a new generation of luxury homebuyers seeking financial safe harbor in exotic, ready-to-go real estate," said Dean Jones, President and CEO of RSIR. "Some of the most extraordinary properties on earth were built during the heydays of the past economic cycle. Now as the economy reboots, a select few are making their way to market for the very first time and oftentimes at reset pricing. This includes destination properties accessed only by private planes and long range yachts – that's a lifestyle that's making a robust comeback."
Rather than designing and building one-of-a-kind properties at considerable cost in remote locations, Jones says the smart money is moving in on the last generation of wealth. Oftentimes, these properties are being acquired at or below replacement cost. So rather than waiting years to complete a project, they are being "bought for immediate enjoyment", he says.
Alone in its class, Hidden Bay Retreat includes nearly a kilometer of low-bank waterfront along some of the most productive recreational fishing grounds on earth. The three bedroom 2,382 sq. ft. chalet style home was built with custom milled heartwood cedar trees and boasts its own power plant for sustainable operations at up to six months at a time.
George Herrdum, the retired founder and owner of GFTA built the Alaskan estate as a labor of love for his family. A pioneer in computer-based technical analysis of foreign exchange markets by profession but an architect at heart, Herrdum spent plenty of time and money building family homes in remote destinations, not to mention acquiring the custom yachts and private planes to get there.
"Building in challenging locations became sort of a hobby and looking back it was as rewarding to complete a project as it was to actually reside in it," said Herrdum. "But priorities change and I've come to realize that my time is everything. It's the memories of family and friends that matter, not conferences with the architects and contractors. It's come time to sell and move on."
Whether its real estate, planes or yachts, experts agree that the more unique the offering the better it's held value during the past recession and the better the prospect for appreciation during an up-cycle. "From what we observe globally, it's another strong year in real estate with the Asia market continuing to be strong in terms of sales both in the metropolitan areas and for special properties in unique locations," said Philip White, President and Chief Executive Officer, Sotheby's International Realty Affiliates LLC.
Hidden Bay Retreat is sited on the only fee-simple property surrounded by a US National Monument within the Kootznoowoo Wilderness Preserve. Known as "an island of superlatives", Admiralty Island comprises approximately one million acres of old growth forest that is more than 300 million years old. A new owner of Hidden Bay Retreat can explore some 700 miles of pristine waterfront and dramatic peaks that soar up to 4,500 feet – many which still comprise pockets of ice from the last glaciation of the area. A unique microclimate means that the long days boast warmer temperatures and far less precipitation compared with better known destinations such as Juneau or nearby Sitka, Alaska (both are just an hour and half flight from Vancouver, BC or Seattle, WA). Hidden Bay Retreat is accessible by either commercial flights or private aviation (with a quick seaplane taxi connection) or via private yacht.
This property is a perfect playground for a restless adventurer or corporation seeking recreation off the grid – without sacrificing comfort. The journey is half the fun. Many private vessels will voyage up the inside passage this summer – it's regarded among the most beautiful waterways in the world and has become as popular as the Mediterranean or Caribbean amongst avid yachtsmen.
Jones says the listing is timely because the America's Cup is being held in San Francisco, which has global wealth and many of the world's most significant yachts exploring the West Coast this summer.
Realogics Sotheby's International Realty is a leading marketing and sales brokerage in the Pacific Northwest with market coverage to Alaska. Recently recognized by the Puget Sound Business Journal as the second fastest growing private company in Washington State for 2012, the boutique real estate firm of approximately 60 brokers consistently ranks among the top producing firms within the markets that it serves.