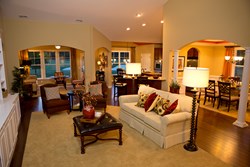 Hilton Head Lakes Home Builder
Bluffton, SC (PRWEB) July 11, 2013
Real Estate Scorecard reveals why families and retirees continue to relocate to Hilton Head Island and Bluffton South Carolina. Beautiful beaches, stunning sunrises and cultural events are only a few reasons. Award winning home builders like Citizens Homes, who build new turnkey homes under $250K are another.
Real Estate Scorecard celebrates Citizens Homes' newest model home named 'The May' which combines the best of the Hilton Head Lakes homes they've built to date. This 2,145-square-foot one level home has three bedrooms, two baths and a study, all on one level. Features include a large great room, eat in breakfast area, large kitchen with a center island and welcoming courtyard entry. This home can be built turn key under $250K because of the reduced pass through lot pricing offered by Citizens Homes. Optional features include upgrading from a two-car to a three-car garage or adding an upstairs bonus room with expanded storage over the garage.
Bluffton new homes like this continue to keep this energy-efficient home builder busy in the Low Country. Citizens Homes consists of a team of five executives who help manage these projects. Citizens Homes Chairman and CEO, Tony Mon, oversees the entire company and supports the company philosophy- "Customer First." Tony Mon has worked with much of the purchased Low Country real estate and has become a prominent name in the coastal South Carolina community with his reputation for earning awards and achievements.
During the past three years, Mon and his staff at Citizens Homes have collected more than nine awards for their Raleigh and Charlotte divisions including, Charlotte's "2013 Builder of the Year". With plenty of recognition and a well-known respected reputation in the south, Citizens Homes is making a name in the Hilton Head Island area with their accomplishments constructing Bluffton new homes.
Citizens Homes is one of the few home builders with move-in-ready Hilton Head Lakes homes. Buyers can explore Bluffton new homes on model at row at this coastal South Carolina community. This option is perfect for families and retirees who are anxious to relocate to the area without the wait. Citizens Homes specializes in helping customers find the perfect property or design to build their ideal home. Whether its a custom home or a move-in-ready home, both options are available for families looking to purchase Low Country real estate in or around Bluffton South Carolina.
Along with strong work ethics and excellent customer testimonials, Citizens Homes offers warranties on their home development projects and financing information to their customers. From the very first step, these homebuilders are putting their "Customers First" and dedicating their efforts to quality and customer service. Delivering a big bang for the buck, it's no wonder why the market is booming in Hilton Head each year!
Citizens Homes is known as one of Bluffton South Carolina's most customer-oriented homebuilders.
About Real Estate Scorecard
Real Estate Scorecard writes unbiased real estate reviews providing in-depth information about popular gated communities in Florida, Georgia, North Carolina, South Carolina and Tennessee, all in an effort to help people discover where to retire in the Southeast.
Website: http://realestatescorecard.com