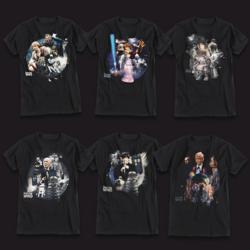 City of Industry, CA (PRWEB) July 12, 2013
You won't need the TARDIS to travel through all 50 years of Doctor Who, thanks to a partnership announced between BBC Worldwide and Hot Topic. In honor of Doctor Who's upcoming 50th Anniversary, BBC Worldwide and Hot Topic are celebrating television's longest running sci-fi series with the launch of limited edition t-shirts. Hot Topic has revealed six of eleven all new limited-edition t-shirts, each commemorating a different incarnation of the Doctor. The designs featuring the Seventh through the Eleventh Doctor will be released throughout the year.
"Doctor Who is a truly timeless television series that has inspired legions of fans across generations," said Cindy Levitt, VP and General Merchandise Manager at Hot Topic. "We're a pop culture destination, so we are thrilled to celebrate the 50th Anniversary of a pop culture icon – Doctor Who – by remembering all of the Doctors we've come to love over the years."
"Hot Topic has been a fantastic partner who really connects with our audience, which is why we are thrilled to be moving forward with this retail partnership for the celebration of Doctor Who's 50th Anniversary," states Soumya Sriraman, EVP Home Entertainment and Licensing at BBC Worldwide America.
This limited edition collection of Doctor Who tees will be available exclusively at select Hot Topic stores and at HOTTOPIC.com. The first six tees – available now – feature the first six Doctors, portrayed by William Hartnell (First Doctor), Patrick Troughton (Second Doctor), Jon Pertwee (Third Doctor), Tom Baker (Fourth Doctor), Peter Davison (Fifth Doctor) and Colin Baker (Sixth Doctor). For each month through the rest of the year, Hot Topic will introduce a new limited edition tee featuring the next Doctor from the Seventh (Sylvester McCoy) all the way to the Eleventh, and current Doctor, played by Matt Smith. Each shirt will retail for $20.50.
###
About BBC Worldwide Americas:
BBC Worldwide is the main commercial arm and a wholly-owned subsidiary of the British Broadcasting Corporation (BBC). BBC Worldwide Americas brings together all of BBC Worldwide businesses across North and South America. The company exists to maximize the value of the BBC's assets for the benefit of the UK license payer, and invests in public service programming in return for rights. The company has five core businesses: Channels, Content & Production, Sales & Distribution, Consumer Products and Digital. Under these businesses fall two key brands in the U.S. – digital cable channel BBC AMERICA and BBC Worldwide Productions, the production arm responsible for the smash hit Dancing with the Stars.
About Hot Topic
Hot Topic is a mall- and web-based specialty retailer beloved by rebellious and expressive teens for nearly 25 years. Hot Topic offers music and pop culture junkies band-related apparel and accessories, licensed merchandise, and fashion apparel and accessories. Hot Topic operates 625 stores in the U.S., Canada and Puerto Rico and an online store at HOTTOPIC.com. Find Hot Topic on Twitter (twitter.com/hottopic), Facebook (facebook.com/hottopic), YouTube (youtube.com/hottopic) and Instagram (instagram.com/hottopic).