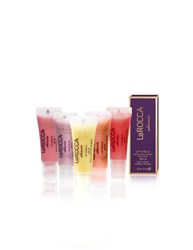 Los Angeles, CA (PRWEB) July 22, 2013
LaRocca Skincare is excited to announce TotalBeauty.com voted us in the top 3 of best lip balms.
LaRocca Skincare's Shield Multi-Active Natural Lip Balm is the ultimate in lip treatments. This balm, made with Sea Buckthorn, Camu Camu and Mangosteen, is specifically formulated to help stimulate cell regeneration, deliver anti-oxidants and its active ingredients to the skin's deepest layer for supreme results. Lip Shield also contains micronized zinc for a natural SPF 8, offering UVA and UVB protection plus ingredients to help protect against germs and bacteria.
About LaRocca Skincare
In addition to the LaRocca Body products, there's the LaRocca Skincare collection containing revolutionary and exclusive Cellular Gold Complex, which is made with 24K gold to promote electron transfer with the metal ions naturally found in the skin, stimulating cell turnover. The skin care line, which includes cleansers, moisturizers, masks and lip care, encourages cell regeneration, helps minimize the signs of aging and leaves your skin smooth and rejuvenated with a youthful glow.
LaRocca Skincare is free of gluten, parabens, PABA, sulfates, mineral oil, animal by-products, DEA, synthetic fragrances and is cruelty free.